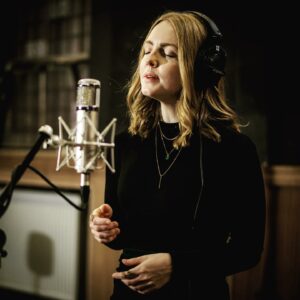 Congratulations to Kim Carnie who have been nominated in Gaelic Singer of the Year sponsored by The Highland Society of London in the MG ALBA Scots Trad Music Awards 2021. Vote here! Vote now!
We asked Kim Carnie of Kim Carnie the following questions.
Tell us about yourself
'A standout instrument of her generation' (BBC Radio 2)
Since launching her solo career in 2018 with the release of her EP 'In Her Company', Carnie has become one of the most sought-after Gaelic singers on the scene. With her 'velvet voiced authority' (The Scotsman) Carnie has become a regular session vocalist, having worked with producers including Jim Sutherland, Ged Grimes and Donald Shaw. She is featured on Netflix's Outlaw King (2018) and the computer game soundtrack for Black Mirror, as well as The Bard's Tale (2019), alongside Deacon Blue's Gregor Phillips.
Why are you involved in Scottish music?
I have loved Gaelic song for as long as I can remember. The language itself is so beautiful, but the songs and the storytelling nature of the culture drew me in from a young age.
Any particular career highlights?
Singing with the BBC SSO at Celtic Connections as a part of the 'Òran nan Gàidheal' night was my favourite gig to date.
What are your plans for the future?
I am currently working on a solo album, with release planned for early 2022. We are almost finished recording – just a few guests to go. I'm really excited about this.
Later this month, I will be touring a new piece of work I have written 'Buaidh nam Ban' commissioned by the Blas Festival. The band include James MacIntosh (Capercaillie), Megan Henderson (Breabach), Brian McAlpine (Session A9), Sorren MacLean (Karen Matheson Band) and Cammy Maxwell.
Mànran are on tour throughout the year at home and some international tours too, including China, US and Europe. Staran have some shows in the UK too.
Read more about Kim Carnie
Kim Carnie Social Media
http://www.kimcarnie.com
Facebook: http://www.facebook.com/kimcarniemusic
Twitter: http://www.twitter.com/kim_carnie
Instagram: http://www.instagram.com/kimcarnie
http://www.youtube.com/:
http://www.tiktok.com/:
Unfortunately due to Covid there are no tickets for sale to the 2021 MG ALBA Scots Trad Music Awards. You will be able to watch it live in the UK at 7pm (GMT) on BBC ALBA and here. Bands performing on Saturday 4th December include Dàimh, Ìmar, Hannah Rarity, Strathspey Day Band and more to be announced.
If you would like to support Hands Up for Trad in their work with Scottish trad music and musicians please consider supporting our Patreon campaign. We have 3 tiers starting at $1 a month and everything helps support us in our work. Read more at www.patreon.com/handsupfortrad