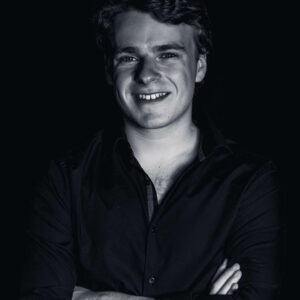 Congratulations to John Dew who have been nominated in Up and Coming Artist of the Year sponsored by Royal Conservatoire of Scotland in the MG ALBA Scots Trad Music Awards 2021. Vote here! Vote now!
We asked John Dew of John Dew the following questions.
Tell us about yourself
John Dew is a bagpiper, composer and arranger from Crieff, now residing in Glasgow. Growing up, John was influenced mainly by solo piping and pipe bands but was also very fond of folk artists such as Fred Morrison, Breabach, Daimh, Gordon Duncan, Deaf Shephard and Mike McGoldrick to name a few. John is also a keen competitive piper and plays with Inveraray and District Pipe Band. On the solo scene he was the aggregate winner of the B Grade category at the Northern Meeting in Inverness and placed third in the Silver Medal. He was also the overall champion piper at Inveraray Highland Games, The Duncan Johnstone Memorial Contest, Highlands and Islands Music and Dance festival and notably won the Royal National MOD in 2019.
John graduated from the Royal Conservatoire of Scotland in 2020 with a First-Class Honours Degree in Traditional Music-Piping. Whilst at the RCS John enjoyed many compositional collaborations and notably won the Agnes Miller Harmony and Counterpoint award for advanced compositional techniques. John was also involved in composing the music for multiple short films, one of which, 'What Separates us from the Beasts', won three Royal Television Society Awards. In 2021 John released his debut album 'Mackerel Sky' which explores bagpipe polyphony. He continues to compose new music to this day in a wide variety of styles.
Why are you involved in Scottish music?
I am involved in Scottish Music because I love the music the Scottish bagpipes has established from fast jigs and reels to Piobaireachd, from pipe band MSRs to intricate 4-piece concert suites. I love it all and want to become a front-running piper in the future. I love the fact that, despite playing for 12+ years, there is still so much to learn and I can't wait to keep that going!
Any particular career highlights?
Performing at various festivals such as Celtic Connections, Piping Live and Celtic Colours is always a treat to say the least. Winning the World Pipe Band Championships in 2017 and 2019 was also unbelievable and winning the Royal National MOD for Piobaireachd in 2019 was a feat I never thought would be possible so early in my career. Whilst at RCS I was involved in Phil Cunningham's 'Iona Suite', RCS 'Ur: Future of Our Past' and a performance of Hamish Napier's 'The Railway' which were fantastic! I loved releasing my debut album 'Mackerel Sky' and am looking forward to touring this project. Another wonderful experience was recording 'Airs and Dances', a piece by Derek Scott, with the Latvian National Orchestra. Finally, playing the first performance of 'Lament For Alex Duncan' at The Glenfiddich Championships 2020 was deeply moving for me.
What are your plans for the future?
I want to add to the growing piping repertoire in many different ways and styles, from simple bagpipe tunes to orchestral arrangements, from duets to 5-piece concert suites. I also love writing contemporary classical music, minimalist music as well as neo-classical/romantic orchestral arrangements and I want to incorporate the bagpipes into these styles in various ways. It is fused-genre music that I want to produce in time I want to be seen as someone who moves pipe music in a new direction.
Read more about John Dew
John Dew Social Media
https://www.johndew-composition.com/
Facebook: http://www.facehttps://www.facebook.com/JohnDewComposition/book.com/
Twitter: http://www.twitter.com/
Instagram: http://www.instagram.com/
http://www.yhttps://www.youtube.com/channel/UCExJM9jH5MRsXbzWuGgAUyA/videosoutube.com/:
http://www.tiktok.com/:
Unfortunately due to Covid there are no tickets for sale to the 2021 MG ALBA Scots Trad Music Awards. You will be able to watch it live in the UK at 7pm (GMT) on BBC ALBA and here. Bands performing on Saturday 4th December include Dàimh, Ìmar, Hannah Rarity, Strathspey Day Band and more to be announced.
If you would like to support Hands Up for Trad in their work with Scottish trad music and musicians please consider supporting our Patreon campaign. We have 3 tiers starting at $1 a month and everything helps support us in our work. Read more at www.patreon.com/handsupfortrad