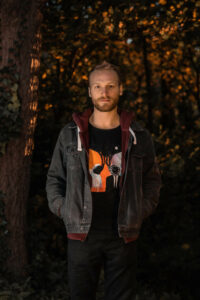 Congratulations to Jack Badcock who have been nominated in Original Work of the Year sponsored by PRS for Music in the MG ALBA Scots Trad Music Awards 2021. Vote here! Vote now!
We asked Jack Badcock of Jack Badcock the following questions.
Tell us about yourself
Singer and guitarist, Jack Badcock is a hugely experienced performer, having toured extensively around the world, in Europe, North America, Asia and Australia, predominantly as frontman and founding member of his multi-award winning, internationally renowned world-folk band 'Dallahan'. He has also performed or recorded with Rura, Siobhan Miller, Dougie MacLean and The Royal Scottish National Orchestra among many others and was a finalist in the BBC Young Traditional Musician of the Year Award.
   Raised in Co. Kilkenny, Ireland and later Yorkshire, England, splitting his first eighteen years between the two, before moving to Scotland as a teenager, immersing himself in it's traditional music scene, where he has lived since 2011, Jack feels no more tied to any one of his three home countries than the next. At aged eighteen, in Edinburgh, he formed a partnership with multi-instrumentalist Ciaran Ryan, initially cutting their teeth playing traditional music on the pub gig circuit there, before going on to tour the UK, Germany and Denmark. The duo would go on to form Dallahan in 2013, which rapidly became one of Scotland's busiest international folk bands. To date they have recorded three albums with numerous tours in the UK, USA/Canada and all over Europe, and even Kathmandu, representing Britain at the Nepalese bicentenary celebrations.
   In recent years, between time away on the road, he has focused his time at home in Glasgow on writing his own material and now draws on his performance experience to deliver a solo show of original songs, interpretations of traditional songs, and poetry set to his own music. This material showcases his craft of thoughtful lyrics that explore human history, cosmology, personal experiences and questions about our world all delivered with a musical sensitivity clearly influenced by American folk, funk and soul music as much as traditional music from Britain and Ireland.
Why are you involved in Scottish music?
My mum has played Irish and Scottish music on the silver flute for all of her adult life so I was always aware of it, but didn't myself get involved with it until I moved to Edinburgh when I was 18. I started playing in sessions there simply because trad music offered a really immediate route to playing gratifying music with other people and generally being social. Playing Scottish and Irish music quickly started becoming a viable means to earn a living and something that I really love so I've stuck to it since.
Any particular career highlights?
My solo act is relatively embryonic so my most memorable highlights have been with my band Dallahan. The two that stand out are a collaborative arrangement and performance with the RSNO on a poem I had put music to and a trip to Kathmandu on behalf of the British Council to work with Nepalese folk band Kutumba.
What are your plans for the future?
I have a New Voices commission coming up at Celtic Connections 2022, and beyond that I plan to do more performing and writing as a solo act, with a view to bringing out an album in 2022/23.
Read more about Jack Badcock
Jack Badcock Social Media
https://jackbadcock.bandcamp.com
Facebook: https://www.facebook.com/jackbadcockmusic
Twitter: http://www.twitter.com/
Instagram: https://www.instagram.com/jackbadcockmusic/
http://www.youtube.com/:
http://www.tiktok.com/:
Unfortunately due to Covid there are no tickets for sale to the 2021 MG ALBA Scots Trad Music Awards. You will be able to watch it live in the UK at 7pm (GMT) on BBC ALBA and here. Bands performing on Saturday 4th December include Dàimh, Ìmar, Hannah Rarity, Strathspey Day Band and more to be announced.
If you would like to support Hands Up for Trad in their work with Scottish trad music and musicians please consider supporting our Patreon campaign. We have 3 tiers starting at $1 a month and everything helps support us in our work. Read more at www.patreon.com/handsupfortrad