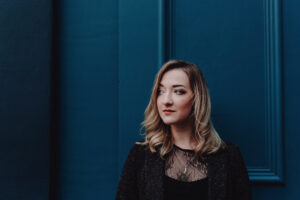 Congratulations to Iona Fyfe who have been nominated in Musician of the Year sponsored by The University of the Highlands and Islands in the MG ALBA Scots Trad Music Awards 2021. Vote here! Vote now!
We asked Iona Fyfe of Iona Fyfe the following questions.
Tell us about yourself
I'm a folksinger from Aberdeenshire, now based in Glasgow, singing primarily in the Scots language, both traditional and self-penned songs.
– I'm passionate about the official recognition of the Scots Language through a Scots Language Act and lobby with Oor Vyce for greater protection, promotion and funding of the language
– I'm an active committee member of the Scotland and NI regional branch of the Musicians Union and speak on topics such as Brexit, streaming
Why are you involved in Scottish music?
I got interested in folksong through learning Doric poems through the Traditional Music and Song Association of Scotland festivals, and started learning piano and traditional bothy ballads and ballads. I graduated with a degree in Traditional Music from the Royal Conservatoire of Scotland in 2019 and have toured across the UK, Europe, Canada and Australia with my trio.
Any particular career highlights?
– In 2021, I successfully campaigned and lobbied Spotify into adding Scots to it's list of languages
– I was selected as an Official Showcase Artist representing Scotland at Folk Alliance International conference in New Orleans in 2020
– Performing at Interceltique Festival De Lorient in Brittany
– Launching my debut album, Away From My Window in 2018 at a sold out show at the Strathclyde Suite at Celtic Connections
What are your plans for the future?
– Lobby for legislation for a Scots Language Act
– Record album number two
– Release a few singles I've been sitting on!
Read more about Iona Fyfe
Iona Fyfe Social Media
http://www.ionafyfe.com
Facebook: http://www.facebook.com/ionafyfe
Twitter: http://www.twitter.com/ionafyfe
Instagram: http://www.instagram.com/iona.fyfe
http://www.youtuhttps://www.youtube.com/ionafyfebe.com/:
https://www.tiktok.com/@ionafyfesingshttp://www.tiktok.com/:
Unfortunately due to Covid there are no tickets for sale to the 2021 MG ALBA Scots Trad Music Awards. You will be able to watch it live in the UK at 7pm (GMT) on BBC ALBA and here. Bands performing on Saturday 4th December include Dàimh, Ìmar, Hannah Rarity, Strathspey Day Band and more to be announced.
If you would like to support Hands Up for Trad in their work with Scottish trad music and musicians please consider supporting our Patreon campaign. We have 3 tiers starting at $1 a month and everything helps support us in our work. Read more at www.patreon.com/handsupfortrad