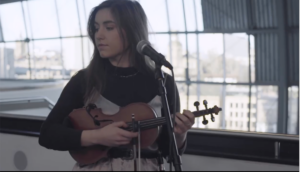 Congratulations to Imogen Bose-Ward who have been nominated in Music Tutor of the Year Award sponsored by Creative Scotland's Youth Music Initiative in the MG ALBA Scots Trad Music Awards 2021. Vote here! Vote now!
We asked Imogen Bose-Ward of Imogen Bose-Ward the following questions.
Tell us about yourself
I am a fiddle player and a singer/songwriter from Lanarkshire. I started learning at 8 and was taught by Glasgow Irish fiddler Clare McLaughlin. I started a fiddle school in my local town when I was 14 which I ran until I left home. I have went on to study trad music at University and have since been gigging and teaching. As well as my own fiddle school, Tea and Tunes I also work for El Sistema and have just taken over EYG as part of Tradfest. I also teach folk song, fiddle workshops and do private and peripatetic teaching in schools. I am particularly interested in equality, inclusion and diversity and this year I have been doing a course with Trinity College London on inclusion in music education.
Why are you involved in Scottish music?
The music and the folk are class!
Any particular career highlights?
Working in El Sistema has been amazing, getting the opportunity to teach children from disadvantaged backgrounds and seeing them connect with each other through music making is so special. I also am really proud of the little community that has been built around my fiddle school, Tea and Tunes for adult beginner fiddle players. I love seeing the participant's friendship grow and their confidence improve week on week. Outside of teaching, I have been lucky enough to perform at some beautiful venues, my favourite of which was at a festival in Rauland, Norway. It was in such a rural area, it took us the best part of 12 hours to get there but it was covered in snow and so peaceful – all the good stuff!
What are your plans for the future?
This year I've taken on Edinburgh Youth Gatherin' which is going to be a really fun project for me to organise, as I used to attend it myself when I was younger, then came back as an adult to teach on it. I also want to build my fiddle school up to have a few different classes of varying ability, and I've always had a dream to set up and run a big fiddle orchestra for mixed ability fiddle players in the community.
Read more about Imogen Bose-Ward
Imogen Bose-Ward Social Media

Facebook: http://www.facebook.com/https://www.facebook.com/imogenastridmusic/?ref=pages_you_manage
Twitter: http://www.twitter.com/
Instagram: http://www.instagram.com/
http://www.youtube.com/:
http://www.tiktok.com/:
Unfortunately due to Covid there are no tickets for sale to the 2021 MG ALBA Scots Trad Music Awards. You will be able to watch it live in the UK at 7pm (GMT) on BBC ALBA and here. Bands performing on Saturday 4th December include Dàimh, Ìmar, Hannah Rarity, Strathspey Day Band and more to be announced.
If you would like to support Hands Up for Trad in their work with Scottish trad music and musicians please consider supporting our Patreon campaign. We have 3 tiers starting at $1 a month and everything helps support us in our work. Read more at www.patreon.com/handsupfortrad