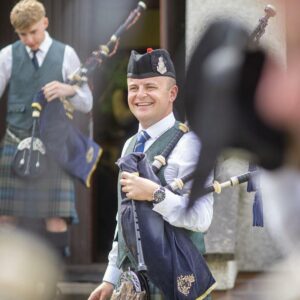 Congratulations to Craig Muirhead who have been nominated in Music Tutor of the Year Award sponsored by Creative Scotland's Youth Music Initiative in the MG ALBA Scots Trad Music Awards 2021. Vote here! Vote now!
We asked Craig Muirhead of Craig Muirhead the following questions.
Tell us about yourself
I've been lucky enough to perform on pipes and piano all across the world and with some of the most amazing musicians, but in the last eight years, I've focussed on teaching. Having built up the piping and drumming programme at Strathallan School to 25% school involvement, this year we have launched our Department of Traditional Music and Scottish Culture. Given the privileged position the school sits, one of the most rewarding parts of my job is the outreach work going on in local communities, taking traditional music and songs to primary school children who may not have had the chance to play or sing them before.
In January 2021, I started the Lockdown Piping Club to give people a focus whilst COVID-19 restrictions were in place, to address my own serious concerns about the lack of new pupils taking up chanter and to help bridge the gap many children and young people were experiencing in their learning. Participants could sign up, download the learning materials online, buy an affordable practice charter (if needed) and take part in 10 weekly classes live online for free. Numbers exceeded my own expectations and we created an online community of learners of all ages, which got so many through the dark winter months. I teamed up with Scottish charities on the project, including CHAS, fundraised to provide chanters for those involved in the charity and held weekly classes online. To this date, well over 5,000 participants have started their piping journey with me in the Lockdown Piping Club and it has become the project I am most proud of.
Why are you involved in Scottish music?
Scottish music has been my life from a young age. My Grandpa and I used to sing songs at the piano on a Sunday afternoon and at family parties and I went to my first festival in Lorient with my family aged eight (1998) – what better way to grow up! This music has given me friends across the world and some of the most amazing experiences, it's such a pleasure to be able to introduce children, young folk and adults to our scene.
Any particular career highlights?
In performing, I had competitive success as a piper which I was delighted with and found myself onstage at some pretty high profile events including the Commonwealth Games 2010 and 2014. It was exciting to release a book of original compositions last year which has gone down well.
It's hard to pick out a highlight from my teaching work. No matter what level the pupils are playing to, it's a real buzz seeing them take to a stage and enjoying themselves. The numbers involved in the Lockdown Piping Club continue to amaze me and I'm so happy to hear from participants and how they have continued to play with local tutors across the world.
What are your plans for the future?
I'm always coming up with ideas and am hoping to continue with the piping club model going forward. I want to give as many children and young people the chance to play our wonderful music!
Read more about Craig Muirhead
Craig Muirhead Social Media
http://www.pipingclub.com
Facebook: http://www.facebook.com/craigmuirheadmusic
Twitter: http://www.twitter.com/craigmuirhead
Instagram: http://www.instagram.com/craigmuirhead90
https://www.youtube.com/channel/UC0zuzSrPxCsn38jlPV4vp7Q/featured:
http://www.tiktok.com/:
Unfortunately due to Covid there are no tickets for sale to the 2021 MG ALBA Scots Trad Music Awards. You will be able to watch it live in the UK at 7pm (GMT) on BBC ALBA and here. Bands performing on Saturday 4th December include Dàimh, Ìmar, Hannah Rarity, Strathspey Day Band and more to be announced.
If you would like to support Hands Up for Trad in their work with Scottish trad music and musicians please consider supporting our Patreon campaign. We have 3 tiers starting at $1 a month and everything helps support us in our work. Read more at www.patreon.com/handsupfortrad