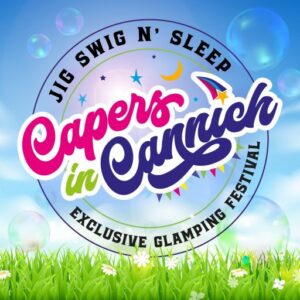 Congratulations to Capers in Cannich who have been nominated in Event of the Year sponsored by VisitScotland in the MG ALBA Scots Trad Music Awards 2021. Vote now!
We asked Karl & Ann Falconer of Capers in Cannich the following questions.
Tell us about yourself
Capers in Cannich made history earlier this year when it burst onto the Scottish events calendar in May to become the first live music festival to be staged in Scotland after the pandemic.
The Capers in Cannich team went on to stage five much-loved events throughout the summer, putting on a unique glamping and live music experience in a safe environment, all on its spacious, picturesque Highland site near Beauly in Inverness-shire.
Over the five weekends, Thousands made the journey to Cannich to see some of their favourite Scottish acts live again. Reveller's young and old embraced the festival, which boasted a touch of luxury for its visitors with luxury onsite Glamping.
It was a hectic year becoming the new kid on the Scottish festival block and the team put so much hard work into delivering not one but five incredible events throughout the summer.
We'd like to thank everyone who supported and believed in Capers right from the off, despite the challenging climate we were operating in – none of it would have been possible without the help from the whole team and wonderful artists. The extra mile many went to help pull this off was very humbling. The stage, sound and light show provided by Limelight Event Services with Craig and his crew was amazing and made the artists and crowd feel as if they were at a far bigger event despite our limited numbers actually being there due to the restrictions.
Why are you involved in Scottish music?
Why go anywhere else? Scottish Music is in the heart's of so many both young and old and in every community throughout Scotland. A diverse mix of styles comes together in a way that so many people can relate to. Foot tapping, story telling and dancing brings people together and promotes a sense of well being and happiness.
It's vital that events provide an opportunity for new and young Scottish talent to take to the stage and continue on the traditions. This we loved doing at Capers in Cannich and provided an opportunity for some bands formed during lock down to take to the stage for the very first time.
Any particular career highlights?
That moment when we opened the gates for the very first time and the dream became a reality, will stay with us for ever. Seeing the smiles and hearing the laughter of everybody including artists and people attending the event. Listening and watching all the artists take to the stage and do what they do best after such a difficult time was very emotional for the whole team.
What are your plans for the future?
We're now extremely excited to build on the success and legacy of Capers in Cannich and see the event evolve next year as restrictions continue to change.
We look forward to hearing the music, laughter and joy in 2022.
Read more about Capers in Cannich
Capers in Cannich Social Media
http://capersincannich.co.uk
Facebook: http://m.facebook.com/capersincannich/
Twitter: http://www.twitter.com/@cannichcapersin
Instagram: http://www.instagram.com/@capersincannich
http://www.youtube.com/:
http://www.tiktok.com/:
Unfortunately due to Covid there are no tickets for sale to the 2021 MG ALBA Scots Trad Music Awards. You will be able to watch it live in the UK at 7pm (GMT) on BBC ALBA and here. Bands performing on Saturday 4th December include Dàimh, Ìmar, Hannah Rarity, Strathspey Day Band and more to be announced.
If you would like to support Hands Up for Trad in their work with Scottish trad music and musicians please consider supporting our Patreon campaign. We have 3 tiers starting at $1 a month and everything helps support us in our work. Read more at www.patreon.com/handsupfortrad