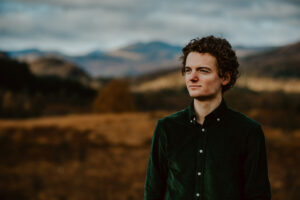 Congratulations to Cameron Nixon who have been nominated in Citty Finlayson Scots Singer of the Year sponsored by Traditional Music and Song Association in the MG ALBA Scots Trad Music Awards 2021. Vote here! Vote now!
We asked Cameron Nixon of Cameron Nixon the following questions.
Tell us about yourself
My name is Cameron Nixon and I am from Peterculter, Aberdeen. I am a Scots singer and fiddle player. I grew up in a family surrounded by both folk and classical music, and decided to embrace both genres. I began my life as a classical singer by joining Aberdeen City Boys Choir which was founded by Morag Simpson. I then successfully auditioned for the National Youth Choir of Scotland at the age of 9 which was founded by conductor Christopher Bell. Progressing through the NYCoS programme led me to performing at several prestigious events such as the BBC Proms 2016, the Independence Day Celebrations as part of the Grand Teton Music Festival in Wyoming and Grant Park in Chicago, and BBC Songs of Praise. The choir has performed several times with the distinguished conductor Sir John Eliot Gardiner at the Berlioz Festival in Carnegie Hall New York, La Côte Saint-André and Proms 2017. I remain a member of The National Youth Choir of Scotland. I also performed in Scottish Opera's production of Mozart's 'The Magic Flute' in 2012 as one of the Three Spirits performing in Glasgow, Edinburgh, Aberdeen and Belfast which was an unforgettable experience for me.
When I was 14 I joined a band called the North East Folk Collective in 2010 led by Sharon Hassan and we went on to perform in The Royal Albert Hall as part of the Music for Youth's School Proms event and at the BBC Trad Awards in 2012.
Inspired by my love for folk music, I accepted a place at the National Centre of Excellence in Traditional Music in Plockton to study Scots song and fiddle for my final year of secondary school. Whilst there, I learned Scottish fiddle techniques from the renowned fiddle player Gordon Gunn and my enthusiasm to understand how to interpret and sing Scots songs was nurtured by Wendy Wetherby. I toured with the music school around the Western Isles at the end of my academic year performing in village halls and local community centres. I have also toured with Iona Fyfe in September 2018, in Bromyard, Birmingham, London and Brighton.
I accepted a place at The Royal Conservatoire of Scotland (RCS) in 2016 to study for a degree in Traditional Music. I received Scots song tuition from Fiona Hunter and Rod Paterson. In February 2020 I was a Finalist in the BBC Young Traditional Musician of the Year award as part of the Celtic Connections Festival. I am also a member of the band 'Harbour Road' and we are currently working towards releasing an EP. I also perform in a group with my girlfriend, Rachel (accordion) and her sister Kirsty (flute and piano) and we present both a blend of Classical and Scottish music for Wedding ceremonies, ceilidh's and private functions. This year I was invited by the Scottish composer Fergus Hall to sing all tracks on his album which was a jazz album set to the words of the Scottish writer Sorley MacLean. This album was a feat of endurance as it was created during lockdown amidst many Zoom rehearsals before we were finally allowed into the recording studio to record the album. It is called 'Shores'. and was released earlier this year in April 2021.
In June 2020, I graduated with a First Class Honours Degree from the RCS. However, due to the pandemic and being unable to perform I enrolled at Glasgow City College and recently completed a Media and Communications course. My passion for presenting on stage has led me to explore the world of radio presenting. As well as performing, I now present my own radio show on the community radio station 'Celtic Music Radio' on a Monday evening from 8pm – 10pm reaching a worldwide audience.
Why are you involved in Scottish music?
I have been involved in Scottish music from a young age playing the fiddle and singing. I was influenced by the fact my dad plays the fiddle and my mum studied music many years ago. I received lessons from Ruth Hardie, a fantastic and inspirational tutor and fiddle player based in Alford, whilst I was in Primary School and she really motivated me to learn Scottish music. I attended Garioch Fiddlers, a Strathspey and Reel Society in Inverurie that focuses heavily on traditional music. Being surrounded with Scottish music not only encourages you to want to learn more but also progress further. My dad often bought folk albums and I particularly remember 'Saltfishforty' being played in the car on numerous occasions as well as other groups such as 'The Gloaming' and 'Dreamers Circus'. Listening to folk bands not only from Scotland but further afield have had a major influence on my love for folk music. My desire to learn Scots songs started in Plockton where it was my first study. A year on the West coast of Scotland surrounded by like minded musicians was definitely one of the highlights in my life. I learnt so much about creativity, working as part of a group and learning all about Scots songs, language and Scottish music. Consequently, this led me to applying to the RCS to study Traditional Music. Ultimately, I now wish to pursue a career in Scottish Folk Music as both a singer and fiddle player.
Any particular career highlights?
The RCS has connections with Celtic Music organisations throughout the world and regularly sends groups to represent it. I was fortunate enough to be selected to perform at the Celtic Colours International Festival at Cape Breton, Canada in 2019. We were a small group of eight musicians comprising various instruments; harp, whistle, pipes, fiddle, vocals, keyboard and viola and we were put together by Jenn Butterworth (RCS) who played guitar on some of our sets. We created our own sets, arranged the music for all our performances and organised rehearsals at all the venues to ensure professional performances for our audience. For all of us, the experience was overwhelming; we played to audiences of hundreds who gave our small band from Scotland (Ùr) an incredibly enthusiastic and warm reception. We were exposed to so much music from many cultures and had the opportunity to play and collaborate with them in informal sessions at the festival club. I thoroughly enjoyed presenting our group and experiencing the excitement of introducing and engaging with the audiences. For me, Cape Breton was a life changing moment where I nurtured some lasting friendships and I hope to return there in the future.
What are your plans for the future?
Now that I have completed my studies, I am continually trying to advance my musical career. My ambition is to release my own solo album with compositions and arrangements of my own material. I will continue to enjoy my passion for presenting not just on stage but also behind the microphone on radio. I am also looking into teaching pupils who are wanting to learn Scots Song and fiddle. Ultimately, I would love to go on tour across parts of the world sharing my passion for music.
Read more about Cameron Nixon
Cameron Nixon Social Media
http://www.cameronnixon.com
Facebook: https://www.facebook.com/cameronnixonmusic
Twitter: https://twitter.com/cameron__nixon
Instagram: https://www.instagram.com/cameronnixon_/
https://www.youtube.com/channel/UCFqojYx4KciyL0mjskgXxlg/featured:
:
Unfortunately due to Covid there are no tickets for sale to the 2021 MG ALBA Scots Trad Music Awards. You will be able to watch it live in the UK at 7pm (GMT) on BBC ALBA and here. Bands performing on Saturday 4th December include Dàimh, Ìmar, Hannah Rarity, Strathspey Day Band and more to be announced.
If you would like to support Hands Up for Trad in their work with Scottish trad music and musicians please consider supporting our Patreon campaign. We have 3 tiers starting at $1 a month and everything helps support us in our work. Read more at www.patreon.com/handsupfortrad