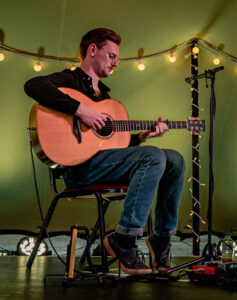 Congratulations to Calum McIlroy who have been nominated in Citty Finlayson Scots Singer of the Year sponsored by Traditional Music and Song Association in the MG ALBA Scots Trad Music Awards 2021. Vote here! Vote now!
We asked Calum McIlroy of Calum McIlroy the following questions.
Tell us about yourself
I'm a guitarist, mandolinist, and singer from Aberdeenshire. My main project is my trio with Megan MacDonald (accordion) and Ruairidh Gollan (fiddle), and I released my debut EP "This Ill Deeds" with them in October 2020.
Why are you involved in Scottish music?
I first got involved in Scottish music through the ceilidh band at my high school, and being involved with things like the North East Folk Collective, The Aberdeen International Youth Festival, and the Fèis Rois Cèilidh Trail lead me to study a BMus in Traditional Music at the Royal Conservatoire of Scotland. There, I was taught by great musicians such as Fiona Hunter, Kevin MacKenzie, Innes Watson, Ali Hutton, and Rod Paterson.
Any particular career highlights?
I think my biggest career highlight so far was reaching the final of the BBC Radio Scotland Young Traditional Musician of the Year competition in 2020, and being accompanied by Mhairi Hall, Mike Bryan, and Paul Jennings. Being involved in the "Brave in Concert" gig at Celtic Connections with the BBC SSO was another great opportunity. And more recently, coming out of lockdown and doing a tour with my trio, and being able to play a gig with some other top class musicians – Mike Vass, Mairearad Green, Tom Callister, and Conal McDonagh – was an absolute treat.
What are your plans for the future?
Having used my time in lockdown to do some experimenting, I've been working on some new guitar-focused music. An advantage of the time spent indoors/online was learning how easy it can be to collaborate with people who are miles and miles away; this lesson has inspired me to create some new music with people close to home, and much further afield, in both a geographical and musical sense.
Read more about Calum McIlroy
Calum McIlroy Social Media
http://www.calummcilroy.com
Facebook: http://www.facebook.com/calummcilroymusic
Twitter: http://www.twitter.com/calumrmcilroy
Instagram: http://www.instagram.com/calumrmcilroy
http://www.youtube.com/calummcilroy:
:
Unfortunately due to Covid there are no tickets for sale to the 2021 MG ALBA Scots Trad Music Awards. You will be able to watch it live in the UK at 7pm (GMT) on BBC ALBA and here. Bands performing on Saturday 4th December include Dàimh, Ìmar, Hannah Rarity, Strathspey Day Band and more to be announced.
If you would like to support Hands Up for Trad in their work with Scottish trad music and musicians please consider supporting our Patreon campaign. We have 3 tiers starting at $1 a month and everything helps support us in our work. Read more at www.patreon.com/handsupfortrad