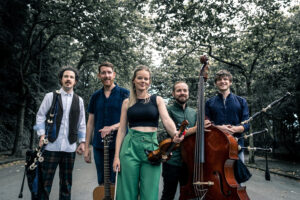 Congratulations to Breabach who have been nominated in Original Work of the Year sponsored by PRS for Music in the MG ALBA Scots Trad Music Awards 2021. Vote here! Vote now!
We asked James Lindsay of Breabach the following questions.
Tell us about yourself
Securely ranked among Scotland's most skilled and imaginative contemporary folk acts, Breabach unite deep roots in Highland and Island tradition with the innovative musical ferment of their Glasgow base. They have released six increasingly acclaimed albums, whilst fuelling their creative appetites in collaboration with BAFTA award winning animator Cat Bruce on 'Dùsgadh' as well as joining with indigenous Australasian artists, Quebec's Le Vent du Nord and Cape Bretoners, Beolach.
​
Their 15 year adventure has included live performances from Sydney Opera House to Central Park NY. They have racked up an impressive array of accolades including five Scots Trad Music Awards, nominations as 'Best Group' in the BBC Radio 2 Folk Awards and 'European Album of the Year' in The Songlines Music Awards.
Breabach are; Megan Henderson (Fiddle, Vocals, Step Dance), James Lindsay (Double Bass, Vocals), Calum MacCrimmon (Bagpipes, Whistle, Bouzouki, Vocals), Conal McDonagh (Bagpipes, Whistle, Vocals) and Ewan Robertson (Guitar, Vocals, Cajon). Acknowledging and respecting the origins of both the music they play and the roots of the band whilst embracing the future with new ideas, energy and belief is a key attribute of the band and has remained a constant theme throughout their 15 years.
Why are you involved in Scottish music?
See bio above
Any particular career highlights?
See bio above
What are your plans for the future?
2022 is a new album year for Breabach and in support of their seventh full-length release will be touring across the UK as well as taking in concerts across Europe, China and Australia.
Read more about Breabach
Breabach Social Media
http://www.breabach.com
Facebook: http://www.facebook.com/breabach
Twitter: http://www.twitter.com/breabach
Instagram: http://www.instagram.com/breabach
http://www.youtube.com/c/Breabachofficial:
http://www.tiktok.com/:
Unfortunately due to Covid there are no tickets for sale to the 2021 MG ALBA Scots Trad Music Awards. You will be able to watch it live in the UK at 7pm (GMT) on BBC ALBA and here. Bands performing on Saturday 4th December include Dàimh, Ìmar, Hannah Rarity, Strathspey Day Band and more to be announced.
If you would like to support Hands Up for Trad in their work with Scottish trad music and musicians please consider supporting our Patreon campaign. We have 3 tiers starting at $1 a month and everything helps support us in our work. Read more at www.patreon.com/handsupfortrad