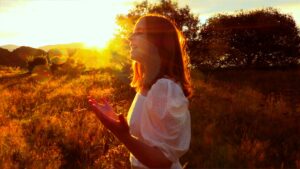 Congratulations to Beth Malcolm who have been nominated in Citty Finlayson Scots Singer of the Year sponsored by Traditional Music and Song Association in the MG ALBA Scots Trad Music Awards 2021. Vote here! Vote now!
We asked Beth Malcolm of Beth Malcolm the following questions.
Tell us about yourself
Beth Malcolm is a 23-year-old singer, songwriter and keyboard player from Perth. Beth's music is folk-inspired, and she sings a mix of traditional, modern and self-penned Scots songs.
When Beth grows up, she'd like to be Karine Polwart, with a bit of Michael Marra thrown in for good measure.
Now living and teaching in Edinburgh, Beth spends her spare time singing Scots songs in the folk pubs at weekends, and trying to find another excuse to teach the Worker's Song again to her pupils.
Why are you involved in Scottish music?
Thanks to a sustained indoctrination from kin and other folkies, Beth has been showing up to screch out Ally Bally Bee since she was old enough to stand on stage. After a brief hiatus from folk music in her teenage years, (read Girls Aloud), Beth fell in love with the old songs and music she had grown up with, as a student living in Glasgow. She found a home, singing regular floor spots at the Glasgow Star Folk club. Beth has been singing, harmonising, playing and writing Scots songs ever since..
Scots song is rooted in place, humour and political justice. Auld Reekie, chip shops and handfuls of earth are some of the themes that fill Beth up whenever she is singing.
Any particular career highlights?
In 2019, Beth performed at the Orkney Folk Festival and The Carrying Stream, and that same year won Edinburgh Folk Club's annual songwriting competition.
In January 2020, Beth was awarded a prestigious 'Danny' award at Celtic Connections.
Most recently, Beth's song 'Leavin' Loch Leven' was announced as a winner of Fèis Rois and NatureScot's 'In Tune With Nature' project. She performed this in the Glasgow Royal Concert Hall as part of the 2021 Virtual Celtic Connections shows, alongside Ross Ainslie, Siobhan Miller, Talisk and Mànran.
What are your plans for the future?
In February 2022, Beth will be heading on a month-long tour to Austria and Germany as part of a Young Trad ensemble, where she will perform Scots song and music. Two years on from her latest EP release, with new songwriting piling up, Beth plans to release an album next year. She'll also be working on 'Folkmosis', a long-term musical project about the ebb and flow of young Scots trad musicians as they navigate their teenage years, and find their way back to Traditional music. She'd also like to continue bringing Scots songs into her History classes.
Read more about Beth Malcolm
Beth Malcolm Social Media
http://bethmalcolm.com
Facebook: http://www.facebook.com/BethMalcolmMusic
Twitter: http://www.twitter.com/BMalc3
Instagram: http://www.instagram.com/bethmalc
http://www.youtube.com/BethMalcolmMusic:
:
Unfortunately due to Covid there are no tickets for sale to the 2021 MG ALBA Scots Trad Music Awards. You will be able to watch it live in the UK at 7pm (GMT) on BBC ALBA and here. Bands performing on Saturday 4th December include Dàimh, Ìmar, Hannah Rarity, Strathspey Day Band and more to be announced.
If you would like to support Hands Up for Trad in their work with Scottish trad music and musicians please consider supporting our Patreon campaign. We have 3 tiers starting at $1 a month and everything helps support us in our work. Read more at www.patreon.com/handsupfortrad