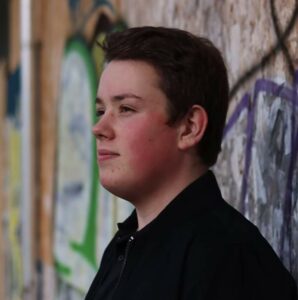 Congratulations to Arthur Coates who have been nominated in Up and Coming Artist of the Year sponsored by Royal Conservatoire of Scotland in the MG ALBA Scots Trad Music Awards 2021. Vote here! Vote now!
We asked Arthur Coates of Arthur Coates the following questions.
Tell us about yourself
Steeped in the folk music of the Shetland Islands from a young age, Arthur was brought up in a house where traditional music was on the menu everyday!
He showed interest from an early age and at 7 took his first fiddle lesson. Upon starting secondary school Arthur was offered a place at the prestigious 'Aberdeen City Music School' where he studied fiddle and piano. It was during his time at 'ACMS', through bands like 'La Bottine Souriante', 'Le Vent du Nord', 'De Temps Antan' that he would realise his calling for Quebecois traditional music. Next stop for him would be to study sound engineering at NESCol, however Arthur would soon decide to terminate his studies in order to chase his true passion to play music full time.
In this new chapter Arthur has made big inroads in his first two years. An in demand session musician both for his skills as an accompanist and as a fiddler, His debut solo album 'Focus' was released in June 2019, featuring original material such as 'Le cou casse' and 'La chambre verte' and classics like 'La belle Catherine' and 'Le reel en vielle'. Playing the music of this album and more, he has toured the UK accompanied by English guitarist Kerran Cotterell.
Why are you involved in Scottish music?
I've grown up with it, it's part of me!
Any particular career highlights?
– Estonia + Latvia tour with 'Tolquhon' aided by Portsoy Boat Festival
– Solo album 'Focus' released June 2019
– UK tour with Kerran Cotterell July – August 2019
– Virtual Festival International de Louisiane 2021 with 'Across : Fiddlers Collective'
– Single 'Johnny O'Braidislee' released June 2021
What are your plans for the future?
– New album and show with Kerran Cotterell Summer 2022
– Continued work with 'Across : Fiddlers Collective'
Read more about Arthur Coates
Arthur Coates Social Media
http://www.arthurcoates.com
Facebook: https://www.facebook.com/ArthurCoatesMusic
Twitter: http://www.twitter.com/podorythmie_boi
Instagram: http://www.instagram.com/podorythmie_boi
https://youtube.com/channel/UC4pdica_5G1gxaUKAxZ-Inw:
http://www.tiktok.com/:
Unfortunately due to Covid there are no tickets for sale to the 2021 MG ALBA Scots Trad Music Awards. You will be able to watch it live in the UK at 7pm (GMT) on BBC ALBA and here. Bands performing on Saturday 4th December include Dàimh, Ìmar, Hannah Rarity, Strathspey Day Band and more to be announced.
If you would like to support Hands Up for Trad in their work with Scottish trad music and musicians please consider supporting our Patreon campaign. We have 3 tiers starting at $1 a month and everything helps support us in our work. Read more at www.patreon.com/handsupfortrad