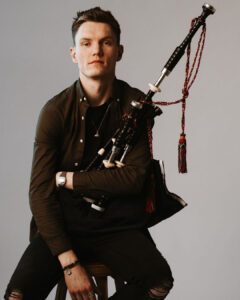 Congratulations to Ali Levack who have been nominated in Musician of the Year sponsored by The University of the Highlands and Islands, Trad Video of the Year sponsored by Threads of Sound in the MG ALBA Scots Trad Music Awards 2021. Vote here! Vote now!
We asked Ali Levack of Ali Levack the following questions.
Tell us about yourself
My name is Ali Levack and I'm a full time musician.
My main projects and and bands include 'Project SMOK', 'GLIN' and 'Ali Levack' (solo work).
I also record and perform as a freelance session musician.
Aside from gigging with the projects I'm involved with, I also teach 'one-to-one' lessons with several pupils through the week, teaching both pipes and whistles.
In the past two years, composing and commissions have also become a means of regular income for myself and I recently released 2 volumes of tune books which contain all original compositions from myself.
Finally, and this is more of a pastime than an official role but I have taken a keen interest in video & photography since the beginning of 2020. As well as designing official album, E.P., and single covers for several bands and fulfilling photography bookings, I have also created music videos for myself, 'Project Smok' and 'GLIN'.
So in a nutshell, recording, gigging, teaching, composing and video & photography are currently my main commitments as a musician.
Why are you involved in Scottish music?
I've been playing music for almost 20 years, when I first began chanter lessons at the age of nine through my grandfather.
It was really my grandfather, Donald MacKillop, who got me started and set me on the path to becoming a full time musician.
From the age of 9 to 15 I was solely a solo piper, competing in Highland games and piping competitions across the country.
At 15 I moved away from home and was enrolled in the National Centre of Excellence in Traditional Music, in Plockton. Here I was a pupil of both Plockton High School and the Music School, where I received tuition from some of Scotland's most well renowned traditional musicians, including Iain MacFadyen and Hamish Napier.
I then moved to Glasgow soon after finishing High School in Plockton and have been living in Glasgow since.
So the path for me to become a musician was set from a very early age, with help from a lot of people but as well and that, there has never really been anything I've wanted to do as much or felt as passionate about as music.
Any particular career highlights?
There are so many to choose from but if I had to list a few, these would definitely be some of the most memorable;
* Headlining 'Festival de Ortiguiera' with my band, 'Project Smok' in Galicia, Spain, to over 40,000 people.
* Winning 'The BBC Radio Scotland Young Traditional Musician of the Year' award in 2020.
* Performing alongside Dougie MacLean, Lulu, Kylie Minogue and Deacon Blue as part of the headline band for the closing ceremony of the 2014 Commonwealth Games at Hampden Park, Glasgow.
* Recording the 'Project SMOK' debut album, 'Bayview', at Edwyn Collins' studio in Helmsdale, Sutherland. We were even lucky enough to have Edwyn himself feature on the album singing an acoustic version of his '90's hit, 'A Girl Like You'.
What are your plans for the future?
The short answer; to be gigging and recording flat out for as many different bands and artists as possible.
Collaboration is a big inspiration for myself as well though and unless people are creating new music and doing something different with it/merging it with another genre, I begin to lose interest quickly.
An idea for a project/band I've had for a while is to bring several different musicians from several different genres together to create something that people from several different genres can enjoy.
Read more about Ali Levack
Ali Levack Social Media
https://www.alilevack.comhttp://
Facebook: https://www.facebook.com/alilevack93
Twitter: http://www.twitter.com/
Instagram: https://www.instagram.com/alilevack/
https://www.youtube.com/channel/UCn-ScXCMqd4fkCIHv00cDCA:
https://www.tiktok.com/@alimlevack?lang=en:
Unfortunately due to Covid there are no tickets for sale to the 2021 MG ALBA Scots Trad Music Awards. You will be able to watch it live in the UK at 7pm (GMT) on BBC ALBA and here. Bands performing on Saturday 4th December include Dàimh, Ìmar, Hannah Rarity, Strathspey Day Band and more to be announced.
If you would like to support Hands Up for Trad in their work with Scottish trad music and musicians please consider supporting our Patreon campaign. We have 3 tiers starting at $1 a month and everything helps support us in our work. Read more at www.patreon.com/handsupfortrad