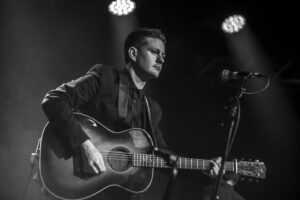 Congratulations to Alec Dalglish who have been nominated in Online Performance of 2021 sponsored by Gordon Duncan Memorial Trust in the MG ALBA Scots Trad Music Awards 2021. Vote here! Vote now!
We asked Alec Dalglish of Alec Dalglish the following questions.
Tell us about yourself
Alec Dalglish, from West Lothian, Scotland is a singer-songwriter-guitarist-producer known primarily as founding member and frontman for Scottish Folk-Rock band, SKERRYVORE. As a songwriter his influences are eclectic and take influence from across the Atlantic where he tours extensively throughout the year.
Often compared to Lady Antebellum, Eagles & Jackson Browne the Pop-Folk-Country undertone is evident but subtle and is fused with his Scottish upbringing to create something truly unique. Alec was the first recipient of the 'Frankie Miller Songwriter of the Year Award'. Most recently his songs 'You & I' & 'Together Again', written for Skerryvore, spent ten weeks on the BBC Radio 2 Playlist.
Why are you involved in Scottish music?
I was first introduced to the world of Scottish music from what I now understand would have been "Take The Floor" on car journeys home from my grandparents as a child. After meeting Daniel & Martin Gillespie while on holiday with schoolmate, Fraser West I was more formally introduced (thrown in at the deep end) to the joy of accompanying Scottish music and fell in love straight away.
Any particular career highlights?
Writing and producing our two latest singles in my bedroom in Glasgow and having the honour of them becoming part of the BBC Radio 2 Playlist amongst many of my musical heroes.
Having our 'Decade' event in celebration of 10 years as a band. It then became a large-scale, annual outdoor festival with excess of 6,000 attendees each year.
What are your plans for the future?
I'm planning to finally release a solo album of my own material and find the time between the busy Skerryvore schedule to do some touring to support the album.
Read more about Alec Dalglish
Alec Dalglish Social Media
http://www.musicbyalec.com
Facebook: http://www.facebook.com/musicbyalec
Twitter: http://www.twitter.com/alec_dalglish
Instagram: http://www.instagram.com/alecdalglish
http://www.youtube.com/:
http://www.tiktok.com/alecdalglish:
Unfortunately due to Covid there are no tickets for sale to the 2021 MG ALBA Scots Trad Music Awards. You will be able to watch it live in the UK at 7pm (GMT) on BBC ALBA and here. Bands performing on Saturday 4th December include Dàimh, Ìmar, Hannah Rarity, Strathspey Day Band and more to be announced.
If you would like to support Hands Up for Trad in their work with Scottish trad music and musicians please consider supporting our Patreon campaign. We have 3 tiers starting at $1 a month and everything helps support us in our work. Read more at www.patreon.com/handsupfortrad