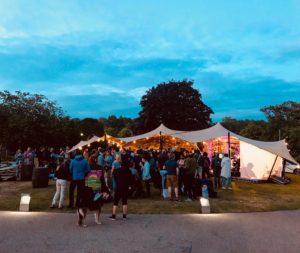 Congratulations to Under Canvas – Eden Court and Fèis Rois who have been nominated in Event of the Year sponsored by VisitScotland in the MG ALBA Scots Trad Music Awards 2019. Vote here! Vote now!
We asked Fiona Dalgetty of Under Canvas – Eden Court and Fèis Rois the following questions.
Tell us about yourself
Eden Court is Scotland's largest combined arts organisation with 2 theatres, 2 cinemas, 2 studios, 3 galleries and an offer of 60+ classes a week!
Fèis Rois is widely regarded as one of Scotland's leading traditional arts organisations providing paid work for more than 400 freelance traditional musicians every year.
In 2018, Eden Court and Fèis Rois joined forces to pilot Under Canvas – a pop up festival held in a beautiful stretch tent on the lawn at Eden Court overlooking the River Ness. Following the successful pilot, by year two Under Canvas has already become a popular fixture in the summer calendar in the Highlands. Fèis Rois programmed traditional music four days a week for seven weeks of the summer this year. More than 100 individual traditional musicians performed to audiences of 25,000 people at Under Canvas in 2019.
Why are you involved in Scottish music?
Eden Court is passionate about providing a platform for Scottish musicians both in the theatre and Under Canvas.
Since 1986, Fèis Rois has provided opportunities for many thousands of people, young and old, to play traditional music. Many of these young people have gone onto carve out successful careers in the Scottish music industry and they can be found playing on stage at Eden Court.
Any particular career highlights?
We had so many highlights at Under Canvas this summer! We loved the public's response to our Secret Artist slots where we didn't announce who would be playing and then renowned musicians including Julie Fowlis and Duncan Chisholm would pop up. It was also wonderful to see actors performing in the Empire Theatre coming out after their shows to enjoy live traditional music in the tent. Sir Ian McKellen was interested in finding out more about the bellows blown pipes!
What are your plans for the future?
Under Canvas will be back in 2020 and we will have traditional music five nights a week for even more weeks than we had in 2019!
Read more about Under Canvas – Eden Court and Fèis Rois
http://eden-court.co.uk
Facebook: http://www.facebook.com/feisrois
Twitter: http://www.twitter.com/feisrois
Instagram: http://www.instagram.com/feisrois
If you wish to attend the final ceremony, tickets are are priced £25 (+ Booking Fee), and Concessions are available. To book please call Aberdeen Music Hall Box Office on 01224 641122, or visit: https://www.aberdeenperformingarts.com/whats-on/all-shows/the-mg-alba-scots-trad-music-awards/2734. Bands performing on Saturday 7th December include Skerryvore, Session A9, Benedict Morris (BBC Radio Scotland Young Traditional Musician Award Winner 2019), Heisk, Aberdeenshire Youth Band, Sian, Robyn Stapleton, Mairi Campbell and the Pendulum Band, Susan MacFadyen Scottish Dance Band and more to be announced. There will also be a late night ceilidh after the Awards till 1am.
If you would like to support Hands Up for Trad in their work with Scottish trad music and musicians please consider supporting our Patreon campaign. We have 3 tiers starting at $1 a month and everything helps support us in our work. Read more at www.patreon.com/handsupfortrad