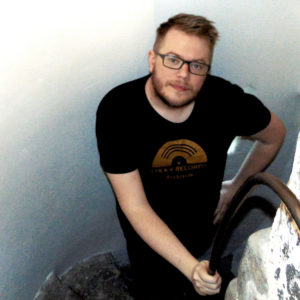 Congratulations to Tom Oakes who have been nominated in Musician of the Year sponsored by The University of the Highlands and Islands in the MG ALBA Scots Trad Music Awards 2019. Vote here! Vote now!
We asked Tom Oakes of Tom Oakes the following questions.
Tell us about yourself
I'm a flute player, guitarist and producer living in Edinburgh for the last 11 years but from the wonderful little town of Totnes (Twinned with Narnia) in South Devon. I play with Ross Couper in a duo and with OBT (Oakes, Bews + Thorpe) and also in the Lorne McDougall Trio and recently with 'The Third Half' with legends of Scottish music Allan MacDonald and Iain Macleod. I work as a Sound Designer for theatre as well and recently made my theatre debut in (Can this be) Home which won the 'New Territories' award at Prague Fringe and has since had a great run at Edinburgh Fringe as well as the Traverse and Tron theatres. I've a double solo album coming soon with one album of straight Irish trad and one of my own compositions and improvisation. The debut OBT album is coming soon as well!
Why are you involved in Scottish music?
Scotland is the ultimate melting pot for a traditional musician. Since living here I've got to know so many people throughout the entire musical spectrum and it really feels like a place where imagination is the only limit. If I wanted to go out to tomorrow and discuss starting a project with a world class tabla player, a ground breaking DJ and world famous classical cellist I could. The rational music itself is such a wonderful foundation but the branches reach far and it makes me hungry to create and play every day.
Any particular career highlights?
The National Folk Festival in Canberra, Australia with Ross this year was pretty special. Sold out gigs and lots of CD sales but a real appreciation of what we do. I also got the chance to pay a personal tribute to my flute maker Michael Grinter who passed away last year. It's such an honour to play one of us flutes ad to be able to play in front of his friends and colleagues and say thank you was a wonderful thing. In the final gig my guitar pick up broke and we did most of the gig on Fiddle and Flute. I think we were both terrified that it would be a disaster but the packed arena got right behind us. It was amazing.
What are your plans for the future?
Mentioned a lot of it already but big plans afoot! Collaboration always and crossing as many cultural boundaries as possible. I've a new label 'Window Weather' which is going to pretty busy. As mentioned a new album with OBT, double solo album. Books of tunes and a tutor guide and a very 'DIY' EP/Single series originally titled 'Collaborations' which will be self recorded with musicians who I've loved playing with for years. The first one with 'The Picasso of the Melodeon' Julian Sutton will be out by the end of the month. I'm constantly trying to think of new ways to produce music as well so looking into some unusual formats to get it out there. Touring in Scandinavia a lot feels like a glimpse into the future and there's no cash and no CD players. Interesting times!
Read more about Tom Oakes
http://www.tomoakesmusic.co.uk
Facebook: http://www.facebook.com/tomoakesflute
Twitter: http://www.twitter.com/tomoakes
Instagram: http://www.instagram.com/tomoakesmusic
If you wish to attend the final ceremony, tickets are are priced £25 (+ Booking Fee), and Concessions are available. To book please call Aberdeen Music Hall Box Office on 01224 641122, or visit: https://www.aberdeenperformingarts.com/whats-on/all-shows/the-mg-alba-scots-trad-music-awards/2734. Bands performing on Saturday 7th December include Skerryvore, Session A9, Benedict Morris (BBC Radio Scotland Young Traditional Musician Award Winner 2019), Heisk, Aberdeenshire Youth Band, Sian, Robyn Stapleton, Mairi Campbell and the Pendulum Band, Susan MacFadyen Scottish Dance Band and more to be announced. There will also be a late night ceilidh after the Awards till 1am.
If you would like to support Hands Up for Trad in their work with Scottish trad music and musicians please consider supporting our Patreon campaign. We have 3 tiers starting at $1 a month and everything helps support us in our work. Read more at www.patreon.com/handsupfortrad