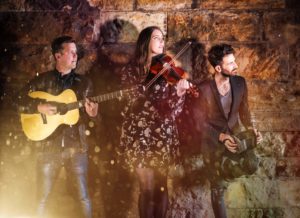 Congratulations to Talisk who have been nominated in Album of the Year sponsored by Birnam CD, Live Act of the Year sponsored by Greentrax Recordings in the MG ALBA Scots Trad Music Awards 2019. Vote here! Vote now!
We asked Mohsen Amini of Talisk the following questions.
Tell us about yourself
In their five years, Scottish firebrands Talisk have stacked up several major awards for their explosively energetic yet artfully woven sound.
Mohsen Amini (concertina) – the BBC Radio 2 Folk Awards' Musician of the Year 2018, Hayley Keenan (fiddle) and Graeme Armstrong (guitar) seamlessly meld their instruments to produce a multi-layered, enthralling signature that has effortlessly captivated audiences from the USA to Australia, and throughout the UK.
​
Appearances at world-leading festivals – including the Cambridge Folk Festival, Denmark's Tønder, WOMAD UK and Las Palmas, the Philadelphia Folk Festival, Celtic Colours, Milwaukee Irish Festival and five successive outings at Glasgow's Celtic Connections – have amassed a die-hard following, whilst the world's folk and world music media have also lauded high credits upon the trio. The release of their hotly anticipated second album, Beyond, in October 2018 was met with a five-star 'Top of the World' review in Songlines, praising the band as "incredibly infectious and endearing… fresh, invigorating, accomplished and playfully frisky."
Why are you involved in Scottish music?
We are firstly Scottish, so if anything we are involved in Scottish music sheerly from the sense of pride you get when taking your native music around the world! We all got into the music through different means, from family, community & luck. We love and cherish it and can think of nothing else we would rather play!!
Any particular career highlights?
We are so lucky to have had many highlights along the road so far but I would probably say that our biggest career highlight to date was this year when we closed the main stage on the Saturday night of Cambridge Folk Festival! We had dreamt of this from the first kick of the ball and consider it a great honour to have been given the chance! We went all out and finally got the whole Talisk show production, lights and all! A taste of what is to come! Excited!!!
What are your plans for the future?
We plan to keep going as we have been! Playing as many shows as possible but just hopefully not playing any faster than we already do haha!
Next year we will be over to the States, Canada, touring UK in May and then the standard festival runs around summer basically where ever will take us and if we can nail down some free time together there might be the glimmer of a new album, but that is a conversation that is still needing to happen!
Read more about Talisk
http://www.talisk.co.uk
Facebook: http://www.facebook.com/TaliskMusic
Twitter: http://www.twitter.com/TaliskMusic
Instagram: http://www.instagram.com/TaliskMusic
If you wish to attend the final ceremony, tickets are are priced £25 (+ Booking Fee), and Concessions are available. To book please call Aberdeen Music Hall Box Office on 01224 641122, or visit: https://www.aberdeenperformingarts.com/whats-on/all-shows/the-mg-alba-scots-trad-music-awards/2734. Bands performing on Saturday 7th December include Skerryvore, Session A9, Benedict Morris (BBC Radio Scotland Young Traditional Musician Award Winner 2019), Heisk, Aberdeenshire Youth Band, Sian, Robyn Stapleton, Mairi Campbell and the Pendulum Band, Susan MacFadyen Scottish Dance Band and more to be announced. There will also be a late night ceilidh after the Awards till 1am.
If you would like to support Hands Up for Trad in their work with Scottish trad music and musicians please consider supporting our Patreon campaign. We have 3 tiers starting at $1 a month and everything helps support us in our work. Read more at www.patreon.com/handsupfortrad