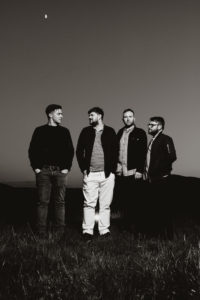 Congratulations to Niteworks who have been nominated in Belhaven Bursary for Innovation in the MG ALBA Scots Trad Music Awards 2019. Vote here! Vote now!
We asked Innes Strachan of Niteworks the following questions.
Tell us about yourself
Niteworks is Innes Strachan (Synths), Allan Macdonald (Pipes), Ruairidh Graham (Drums) and Christopher Nicolson (Bass guitar).
                                                                     
Niteworks formed when four childhood friends from Skye came together with a plan to create electronic music which would acknowledge and reflect their native Gaelic tongue and folk traditions in a new and innovative way.
The catalyst for the band to further develop the vision for their music was upon their move from their native island to Glasgow. Inspired by the city's vibrancy and nightlife, the band combined a distinct 'Glasgow sound' with the traditional elements of their upbringing, marrying together the themes of Scottish Gaelic song, folk song and Scottish traditional tunes with house, techno and electronica. This marriage evokes a deeply held passion for the band, both to create music that excites a dance floor and that reflects their roots and heritage.
Niteworks first EP, Niteworks: Obair Oidhche, was released in 2011. The band were soon playing to audiences around the country, going on to win 'Up and Coming Artist of the Year' at the 2012 Scottish Trad Awards. The band then launched their debut album, NW in 2015 and its follow up Air Fair an Là in 2018.          
                            
A recent quote by Kirstyn Smith, The List, summarises Niteworks ethos: "Niteworks' sound crosses genres and boundaries, melding Gaelic vocals with electronica and dance music. Add all this to their explosive live shows and you've got a band that truly encapsulates what it means to be Scottish: imaginative, versatile, cultural and exciting."  
Why are you involved in Scottish music?
Niteworks' four core members are graduates of the Fèisean movement, and of Gaelic medium education, and their music is a direct consequence of growing up within Gaelic speaking communities on the Isle of Skye immersed in the language and the traditional music that surrounded them. They are passionate about their roots, and are quick to acknowledge this within interviews, as well as within the music they create. The drive to acknowledge their backgrounds are matched by the band's determination to innovate, and this is perhaps why Niteworks are one of the few bands on the Scottish gigging circuit that are cited as both a folk act and a techno act in their own right.
Any particular career highlights?
In August 2018, the band released their second album Air Fàir an Là to great critical acclaim. The album, which features contributions from high profile artists such as Julie Fowlis, Iain Morrison and Ellen MacDonald, is further textured with the strings of Glasgow's own Kinnaris Quintet, and vocals of Gaelic song trio SIAN. 
Revered electronic producer Alex Menzies (Alex Smoke) oversaw production of the groundbreaking album, described in The National newspaper as "redefining trad music". The album continues to build upon the band's stellar reputation with a nomination in the longlist for Album of the Year at the Scottish Trad Awards in 2018 and in the SAY awards in 2019.In the live arena, noteworthy highlights include a sold out Barrowlands show as part of Celtic Connections 2019, Belhaven Birthday Bash, Hebridean Celtic Festival, Cambridge Folk Festival, Skye Live Festival and internationally in Germany (Rudolstadt), Corsica, Borneo (Rainforest World Music Festival) and Belgium (Schotts Weekender). 
In 2018 the band supported The Grit Orchestra at Glasgow's SSE Hydro, playing to 12,000 people on a historic night for traditional Scottish music.
The band is also much sought after for their experience with music commissions for high profile national events. In 2018 a bespoke score for the Edinburgh Hogmanay fireworks display in collaboration with composer Dan Jones (Massive Attack) and the BBC National Orchestra of Wales. More recently the band have been asked to produce music for Castle of Light, a six week event for 80K visitors installed at Scotland's premier historical attraction, Edinburgh Castle. Over the past two years the bands music has featured on promo materials and international advertising campaigns for Visit Scotland, Emirates Airlines, Historic Environment Scotland and BT Openreach among many others.
What are your plans for the future?
2020 promises to be a very big year for Niteworks. The band are in the planning stage for their most ambitious album yet with some very exciting, high profile, cross-genre collaborations lined up from across the width and breadth of the Scottish music scene. The album which will feature songs in both Gaelic and Scots will be a diverse affair mixing Niteworks' trademark electronic sound with the epic orchestral arrangements of composer, Dan Jones (Massive Attack). With recording due to commence in Spring 2020, the band will release the lead single that will again build upon Niteworks the successful collaboration with Gaelic vocal trio Sian in late 2020, with an album to follow in H1 2021.
To accompany this ambitious release, the band are planning a multimedia revamp of their famous live show. Alongside creative director, Rob Alexander, the band are re-designing their touring production that will continue to marry their lighting and visuals with their music. This will include original moving graphics and archive footage inspired by the accompanying song subjects and regions from which they originate with a bespoke lighting show. This is guaranteed to be the most innovative and ambitious live productions in Scotland, destined to take the festival circuit by storm in 2021, pushing Niteworks modern take on traditional music further into the mainstream.
Read more about Niteworks

Facebook: http://www.facebook.com/
Twitter: http://www.twitter.com/
Instagram: http://www.instagram.com/
If you wish to attend the final ceremony, tickets are are priced £25 (+ Booking Fee), and Concessions are available. To book please call Aberdeen Music Hall Box Office on 01224 641122, or visit: https://www.aberdeenperformingarts.com/whats-on/all-shows/the-mg-alba-scots-trad-music-awards/2734. Bands performing on Saturday 7th December include Skerryvore, Session A9, Benedict Morris (BBC Radio Scotland Young Traditional Musician Award Winner 2019), Heisk, Aberdeenshire Youth Band, Sian, Robyn Stapleton, Mairi Campbell and the Pendulum Band, Susan MacFadyen Scottish Dance Band and more to be announced. There will also be a late night ceilidh after the Awards till 1am.
If you would like to support Hands Up for Trad in their work with Scottish trad music and musicians please consider supporting our Patreon campaign. We have 3 tiers starting at $1 a month and everything helps support us in our work. Read more at www.patreon.com/handsupfortrad