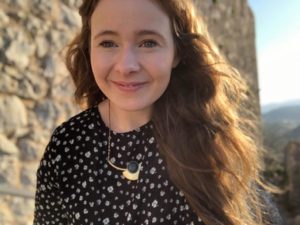 Congratulations to Mischa Macpherson who has been nominated in Composer of the Year sponsored by PRS for Music in the MG ALBA Scots Trad Music Awards 2019. Vote now!
We asked Mischa Macpherson the following questions.
Tell us about yourself
Combining cultural authenticity with an adventurous musical streak – which won her the BBC Radio 2 Young Folk Award with Innes White and Conal McDonagh in 2014 and MG Alba's Scots Trad Music Award for Gaelic Singer of the Year – Mischa Macpherson is "An artist of deep sensitivity [and] fresh, young, vibrant perspective" (Mark Radcliffe, BBC Radio 2). She has toured and performed across Europe, Australia and Canada and performed in front of crowds as large as 20,000 people (Fairport's Cropredy Convention). No stranger to collaboration, Macpherson has worked with a large and diverse list of musicians and projects including Carloz Nunez; Suraj and Chand Khan; Martyn Bennett's GRIT Orchestra (2016); The Unusual Suspects of Celtic Colours (2017) and the Royal Scottish National Orchestra (2018).
Macpherson unearthed her love for improvisation and composition after moving to the Sibelius Academy in Helsinki to study in 2013. There, she began exploring the setting of Gaelic and Scots poetry to new melodies, and the reworking of old texts into new songs. She has since gone on to compose a new suite of Gaelic Songs 'Bho Eirigh Gu Laighe Grein' for the Blas Festival and the Celtic Connections 2019 New Voices Series and this year took the role as Musical Director for the highly acclaimed 'Hebridean Treasure' project which explored the links between ancient Scotland and India's relationship with spirituality and the natural world through music, dance and narrative.
Why are you involved in Scottish music?
I love the vibrant scene and the big extended family of folk musicians and audiences in Scotland! I am continually inspired by fellow musicians and the world-class music that comes from this relatively small country.
Compositionally, I have always been inspired by old Gaelic texts and poetry – particularly those about the natural environment. There is a connection to the past in reading these old passages that ignites some sort of fire and excitement within me to compose instantly and connect the here and now to their sometimes incredibly old origins.
Any particular career highlights?
The GRIT Orchestra performance at the Playhouse in Edinburgh and filling up with tears on stage during the encore. A very overwhelming performance and project to be a part of that still gives me goosebumps when I think about it.
Candle lit concert in Weesp (the Netherlands) with best pal Donald Grant and two incredibly talented string quartets. I just remember smiling ear to ear the whole time I stood on stage.
And finally, meeting and collaborating with Pakistani musicians Suraj & Chand Khan for the Commonwealth Games and Celtic Connections as 'Lahore Ceol Mor' – a true baptism of fire into the world of multi-cultural collaboration.
What are your plans for the future?
New band 'Naad-hara' (Indian/Scottish collaboration with Ankna Arockiam, Charlie Stewart, Alistair Iain Paterson and Sodhi Tabla) are busy preparing for our launch at Celtic Connections 2020 and really excited to share our music with everyone.
I'm also working on a brand new series of compositions inspired by poetry about the human connections within relationships, family, friends and community.
And I'm currently working on a documentary which I'm presenting for BBC Alba about Mental Health in Musicians – a really interesting and important topic which I'm looking forward to investigating more over the next 6 months.
Read more about Mischa Macpherson
http://www.mischamacpherson.com
Facebook: https://www.facebook.com/mischamacp/
Twitter: https://twitter.com/MischaMacp
Instagram: https://www.instagram.com/mischamacpherson/
If you wish to attend the final ceremony, tickets are are priced £25 (+ Booking Fee), and Concessions are available. To book please call Aberdeen Music Hall Box Office on 01224 641122, or visit: https://www.aberdeenperformingarts.com/whats-on/all-shows/the-mg-alba-scots-trad-music-awards/2734. Bands performing on Saturday 7th December include Skerryvore, Session A9, Benedict Morris (BBC Radio Scotland Young Traditional Musician Award Winner 2019), Heisk, Aberdeenshire Youth Band, Sian, Robyn Stapleton, Mairi Campbell and the Pendulum Band, Susan MacFadyen Scottish Dance Band and more to be announced. There will also be a late night ceilidh after the Awards till 1am.
If you would like to support Hands Up for Trad in their work with Scottish trad music and musicians please consider supporting our Patreon campaign. We have 3 tiers starting at $1 a month and everything helps support us in our work. Read more at www.patreon.com/handsupfortrad