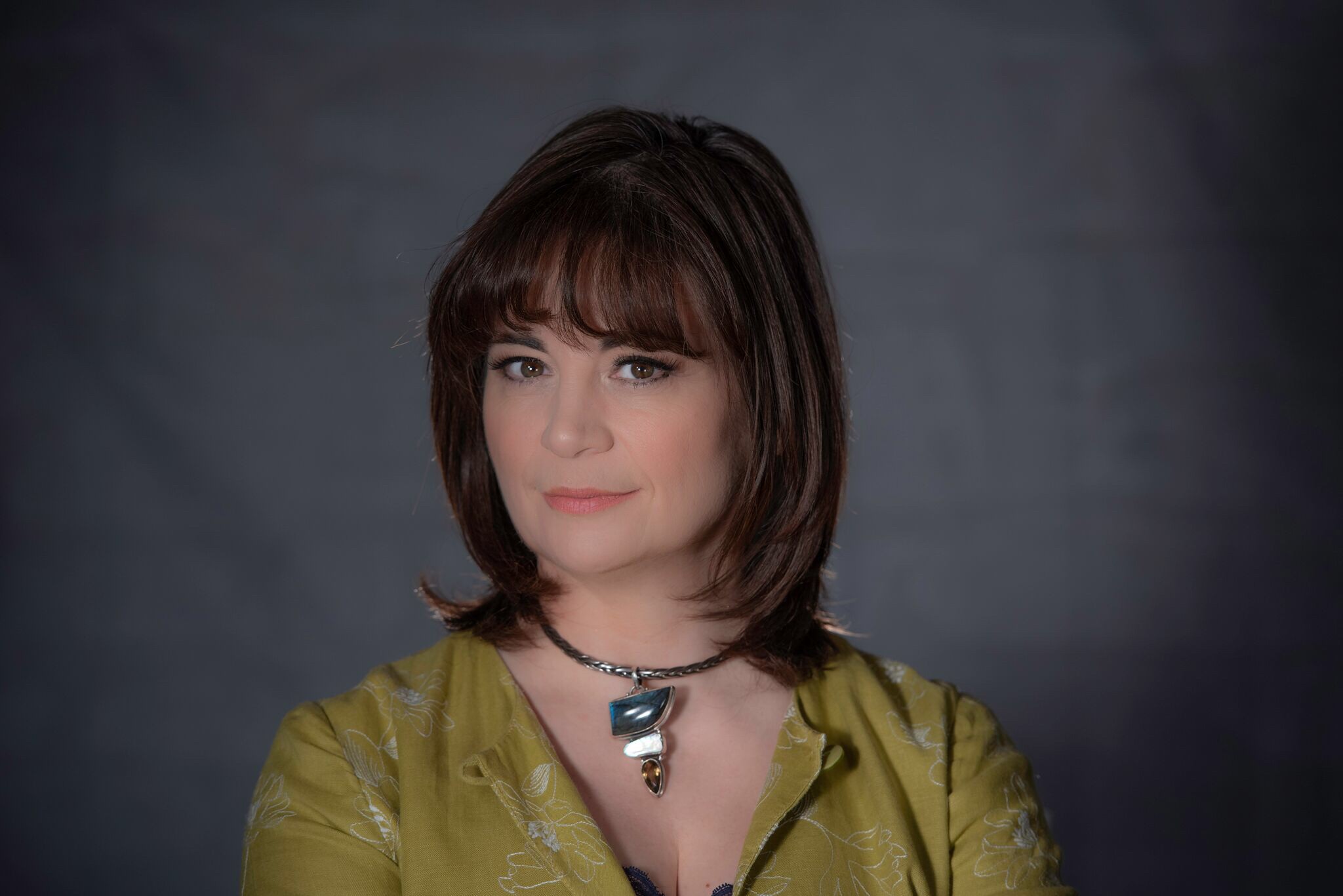 Congratulations to Mary Ann Kennedy who has been nominated in Gaelic singer of the Year sponsored by The Highland Society of London in the MG ALBA Scots Trad Music Awards 2019. Vote now!
We asked Mary Ann Kennedy the following questions.
Tell us about yourself
An urban Gael from multi-cultural Glasgow, Mary Ann Kennedy was brought up as part of a revered tradition-bearer family, the Campbells of Greepe (Isle of Skye), and her earliest memories are of a home filled with song. Mary Ann's traditional roots were paralleled by a classical music training, and she was part of the founding cohort of the UK's first state-funded music school at Douglas Academy in Glasgow. She graduated in piano from the RSAMD and continued with a Master's in harp performance at the RNCM, alongside original research into Gaelic mouth music. While in Manchester she joined Yehudi Menhuin's Live Music Now! scheme as its first non-classical musician, and works today as a volunteer with the organisation, supporting its principles of inclusion and accessibility to the arts.
A brief diversion running the BBC's Gaelic news service led to a parallel career as a radio and TV broadcaster, and she is now based in Ardgour, Lochaber where she runs Watercolour Music, a recording studio and creative centre, with husband and fellow musician-producer Nick Turner.
A founder member of 'supergroup' Cliar, 'All-time Best Album' winners at the first Scots Trad Music Awards, she is also twice winner of the Lorient International Harp Competition, double National Mòd gold medallist, and a Saltire Award winner for ground-breaking choral work, 'Lasair Dhè'. She co-edited a major family compendium, 'Fonn' (Melody/Land, Acair Books 2012), awarded Gaelic Book of the Year, and the Arts & Culture prize at the first National Gaelic Awards. Her writing continues with publication of her choral works, 'Coireal' in 2020.
An inspirational year as musician-in-residence at the Gaelic college, Sabhal Mòr Ostaig in Skye led to the creation of 'Aiseag' (Ferryboat) for the first PRSF New Music Biennial at the 2014 Commonwealth Games. Other commissions include an original soundtrack for BBC WW1 documentary 'Càirdean Cogaidh' (War Comrades); 'Dusan' (Dozen) – one of a set of duets with saxophone marking the 200th anniversary of Arnold Sax's birth; and 'Aon Teanga' (One Tongue) – a PRSF Beyond Borders commission celebrating the links between the three Gaelic nations of Scotland, Ireland and Mann.
Other significant works include 'Black Snow', a site-specific installation for the 11th Antarctic Earth Sciences Symposium in Edinburgh, and an ongoing song writing partnership with poet, Aonghas MacNeacail. 2016 brought a residency in partnership with Nick Turner during the 'Stepping Out' phase of Aberdeen Music Hall's refurbishment, and 'Beul na h-Oidhche gu Camhanaich' (Mouth of the Night to First Light), for the 2016 Blas Festival. In 2018, she was commissioned by Scottish Natural Heritage to create 'Cluaidh – Ùrachadh na h-Aibhne' (Clyde – A River Recovery), exploring the human and natural history, environment and culture of the river from city to sea. The commission was extended in 2019 with 'Lorg Ghlaschu – In Search of the Dear Green Place', celebrating Glasgow's story through her Gaelic placenames, and the final chapter, reaching up to the source of the Clyde will take place in 2020.
Mary Ann's career has been primarily focussed on collaboration – most recently she founded the Gaelic Gospel choir, Soisgeul in 2017, breaking down musical boundaries in Gaelic singing through their collaboration with leading gospel director, Gareth Fuller. in 2017 she was Musical Director on the Tiree Songbook, a celebration of a tiny island with a massive musical heritage – the project won the Trad Music in the Community award that year at the STMAs.
Mary Ann has an extensive discography as producer and performer, but her international debut solo album was released only in 2017. 'An Dàn' (The Song/Destined, ARC Music) is a collection of her original music with lyrics by herself and some of Gaeldom's greatest poets, including Aonghas MacNeacail, Catriona Montgomery and Angus Peter Campbell. Her new album, 'Glaschu – Hometown Love Song' was released in April 2019, a love-song to her Glasgow Gàidhealtachd upbringing.
Why are you involved in Scottish music?
I was born and brought up in a Gaelic-speaking family with music all around me – my earliest memories are of my mam and her siblings rehearsing after we had been put to bed. It seemed natural to follow in their footsteps. I am incredibly grateful for the legacy of song and knowledge that they gave us, but my music and writing are always looking for ways of maintaining the continuum and giving them a present day and future voice.
Any particular career highlights?
Some favourite gigs:
Presenting and singing with Na Seòid on the first broadcast on BBC ALBA
Leading Inverness Gaelic Choir at the first State Opening of the Scottish Parliament
Being a Soggy Bottom Gal – just the once – for John Tyminski singing Man of Constant Sorrow
Hooking up by satellite with my cousin Maggie singing the St Kilda Opera – her in Hiort and me in Austria
Strings Attached with IGC and Blazin Fiddles at Celtic Connections
The whole of the Tiree Songbook playing with Bernie Smith Sr., singing Lag nan Cruachan in his last public performance, and with all the island box band leaders guesting as a surprise
Soisgeul. Just Soisgeul.
Some awards:
1987 – Sean Nòs Gold Medal, National Mòd
1988 – An Comunn Gàidhealach Gold Medal, National Mòd
1987/8 – Concours International de l'Harpe Celtique
1998/2001 – Lovat & Tullibardine Award, Royal National Mòd (Inverness GC)
2001 – Saltire Award (Lasair Dhè)
2003 – Best Album, STMA (Cliar)
2007 – Radio broadcaster of the Year, Celtic Media Awards
2013 – Arts & Culture Award, National Gaelic Awards (Fonn)
2013 – Book of the Year, Royal National Mòd (Fonn)
2017 – Trad Music in the Community, STMA (Tiree Songbook)
What are your plans for the future?
A few! More writing – words and music. A play, more recording of my songs, pulling the Clyde trilogy together into one performance, a film project based on Glaschu, ach just loads of stuff. And Soisgeul. Just Soisgeul.
Read more about Mary Ann Kennedy
http://www.maryannkennedy.co.uk
Facebook: http://www.facebook.com/nicualraig
Twitter: http://www.twitter.com/nicualraig
Instagram: http://www.instagram.com/watercolourmusic
If you wish to attend the final ceremony, tickets are are priced £25 (+ Booking Fee), and Concessions are available. To book please call Aberdeen Music Hall Box Office on 01224 641122, or visit: https://www.aberdeenperformingarts.com/whats-on/all-shows/the-mg-alba-scots-trad-music-awards/2734. Bands performing on Saturday 7th December include Skerryvore, Session A9, Benedict Morris (BBC Radio Scotland Young Traditional Musician Award Winner 2019), Heisk, Aberdeenshire Youth Band, Sian, Robyn Stapleton, Mairi Campbell and the Pendulum Band, Susan MacFadyen Scottish Dance Band and more to be announced. There will also be a late night ceilidh after the Awards till 1am.
If you would like to support Hands Up for Trad in their work with Scottish trad music and musicians please consider supporting our Patreon campaign. We have 3 tiers starting at $1 a month and everything helps support us in our work. Read more at www.patreon.com/handsupfortrad