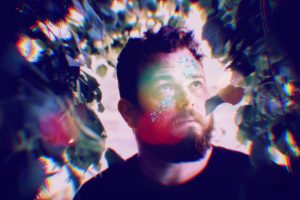 Congratulations to Man of the Minch who have been nominated in Up and Coming Artist of the Year sponsored by Royal Conservatoire of Scotland in the MG ALBA Scots Trad Music Awards 2019. Vote here! Vote now!
We asked Pedro Cameron of Man of the Minch the following questions.
Tell us about yourself
Man of the Minch is an alias I use for my music (which I call "galactic folk pop", which I perform either solo, as duo or trio (with singer Emilie Boyd and fiddle player Laura Wilkie) or as a full band. The Man of the Minch sound blends traditional music, Americana, pop and electronic elements – I try to write songs that sound good just me and my guitar, or with a bigger band production.
Why are you involved in Scottish music?
I love Scottish music in all it's forms. I have been playing fiddle since I was 6 and was brought up on the tradition of trad sessions and ceilidh dancing in the Highlands. I love the stories and mythology of Scottish traditional music, and it's distinctive, unmistakable sound. I enjoy bringing that together with my loves for pop and electronic music.
Any particular career highlights?
This year has been unbelievable, with performances at Celtic Connections and as part of the Bogha-frois project, which I started last year. I won the Killin Music Festival Open Stage this year, and have been performing with one of my favourite musicians, Rachel Sermanni, at a few gigs as part of her album launch tour. I released two singles this year, one of which was featured in Rolling Stone magazine. Honestly, this whole year has been really special and I'm just happy that people are listening to my queer, sparkly brand of folk music.
What are your plans for the future?
More of the same really! I have some really amazing collaborations on the way in 2020 with more of my heroes, and I am hoping to get to work on my debut album. I have some great gigs on the way as well!
Read more about Man of the Minch
http://manoftheminch.bandcamp.com
Facebook: http://www.facebook.com/manoftheminch
Twitter: http://www.twitter.com/manoftheminch
Instagram: http://www.instagram.com/
If you wish to attend the final ceremony, tickets are are priced £25 (+ Booking Fee), and Concessions are available. To book please call Aberdeen Music Hall Box Office on 01224 641122, or visit: https://www.aberdeenperformingarts.com/whats-on/all-shows/the-mg-alba-scots-trad-music-awards/2734. Bands performing on Saturday 7th December include Skerryvore, Session A9, Benedict Morris (BBC Radio Scotland Young Traditional Musician Award Winner 2019), Heisk, Aberdeenshire Youth Band, Sian, Robyn Stapleton, Mairi Campbell and the Pendulum Band, Susan MacFadyen Scottish Dance Band and more to be announced. There will also be a late night ceilidh after the Awards till 1am.
If you would like to support Hands Up for Trad in their work with Scottish trad music and musicians please consider supporting our Patreon campaign. We have 3 tiers starting at $1 a month and everything helps support us in our work. Read more at www.patreon.com/handsupfortrad