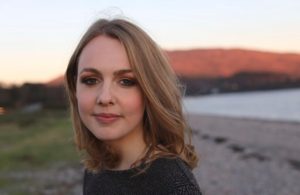 Congratulations to Kim Carnie who have been nominated in Gaelic singer of the Year sponsored by The Highland Society of London in the MG ALBA Scots Trad Music Awards 2019. Vote here! Vote now!
We asked Kim Carnie of Kim Carnie the following questions.
Tell us about yourself
Kim Carnie's solo career began in 2017 which saw the release of her debut EP 'In Her Company/Na Cuideachd': a tasteful collection of traditional Gaelic and self-penned songs with accompaniment from some of the finest musicians on the Scottish music scene. The recording was produced by Euan Burton and was well received by radio stations, audiences and reviewers alike: fRoots Magazine comparing her voice to that of the late Eva Cassidy and the tracks accumulating regular airplay on BBC Radio 2.
Since then, Carnie, with her 'velvet voiced authority' (The Scotsman) has become a regular session vocalist, working with producers Jim Sutherland, Ged Grimes and Donald Shaw. She is featured on Netflix's Outlaw King (2018) and the computer game soundtrack for Black Mirror (2017), as well as The Bard's Tale, alongside Deacon Blue's Gregor Phillips.
Kim has performed extensively across the UK, having made appearances at Cambridge, Orkney and Sidmouth folk festivals as well as Celtic Connections, where, in 2018, a televised concert, celebrating the 'crème de la crème of Contemporary Gaelic singers,' highlighted Carnie's effortless ability to deliver a poignant vocal in a performance elevated only by the BBC Scottish Symphony Orchestra.
With recent tours taking in venues and festivals throughout mainland Europe and Scandinavia, 2020 looks to be a momentous year for the singer who has new horizons in view. Joining Mànran as part of their permanent line-up, Kim will embark on large-scale tours across China, Europe and the US. In an exciting recording project with Emmy award-winning and Grammy-nominated producer, composer and musician, Tyler Duncan, 2020 will bring the release of Kim's highly anticipated debut album.
Breathing 'light and beauty into every note,' Kim Carnie is most certainly 'a voice to watch out for' (The Living Tradition).
Why are you involved in Scottish music?
I was drawn to Gaelic Song and storytelling when I was really young and my interest and love for the language and culture grew as I did. The melodies in Gaelic song are so interesting and I love the embellishments that they allow for. A lot of the songs I sing have been passed down to me by singers in the generations above me and I feel really lucky to have the opportunity to learn from them and be a part of this beautiful tradition.
Any particular career highlights?
At Celtic Connections 2018, Donald Shaw put a really special night together – 'Òrain nan Gàidheal' – a huge line up of Gaelic singers performing with the BBC SSO. I was lucky enough to be asked to be a part of the night, sharing songs with some of my favourite Gaelic singers – including Julie, Karen and Kathleen.
Another of my favourite performances was at a festival over in Farsund, Norway. I went over with my own band – Megan Henderson, Innes White and Euan Burton. One of the venues we played in was a small church that looked over a loch and the fjords. It was an acoustic set and the audience were asked not to clap or cheer until the end. There was to be no speaking from the musicians either – just music. We shared the stage with Ian Carr's band and took turns singing and playing tunes. By the end of the hour, when the audience were finally allowed to respond, so many people were overwhelmed with emotion, having to have kept silent for the hour. It was a really special concert and it will stay with me for a long time.
What are your plans for the future?
I'm really looking forward to 2020. I'm heading over to the US with Innes White to record my album with one of my favourite producers, Tyler Duncan. Mainly I'm excited to watch the pair of them work together – they've both got beautiful musical minds.
I've joined Manran. I start touring with them in December 2019 and we will be recording an album in early 2020. We're heading out on tour across America/Canada, China and Europe throughout the year as well as celebrating the band's 10th year anniversary.
I'm also currently working on another computer game. This time I'm writing some of the music for it too – all in Gaelic. This is the third computer game soundtrack I've sang on that the producer has asked for Gaelic song. I'm really liking the new genre for the language…
Read more about Kim Carnie
http://www.kimcarnie.com
Facebook: http://www.facebook.com/kimcarniemusic
Twitter: http://www.twitter.com/kim_carnie
Instagram: http://www.instagram.com/kimcarnie
If you wish to attend the final ceremony, tickets are are priced £25 (+ Booking Fee), and Concessions are available. To book please call Aberdeen Music Hall Box Office on 01224 641122, or visit: https://www.aberdeenperformingarts.com/whats-on/all-shows/the-mg-alba-scots-trad-music-awards/2734. Bands performing on Saturday 7th December include Skerryvore, Session A9, Benedict Morris (BBC Radio Scotland Young Traditional Musician Award Winner 2019), Heisk, Aberdeenshire Youth Band, Sian, Robyn Stapleton, Mairi Campbell and the Pendulum Band, Susan MacFadyen Scottish Dance Band and more to be announced. There will also be a late night ceilidh after the Awards till 1am.
If you would like to support Hands Up for Trad in their work with Scottish trad music and musicians please consider supporting our Patreon campaign. We have 3 tiers starting at $1 a month and everything helps support us in our work. Read more at www.patreon.com/handsupfortrad