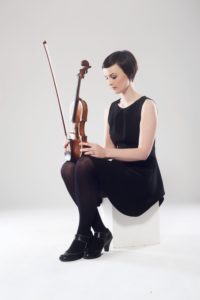 Congratulations to Jenna Reid who have been nominated in Composer of the Year sponsored by PRS for Music in the MG ALBA Scots Trad Music Awards 2019. Vote here! Vote now!
We asked Jenna Reid of Jenna Reid the following questions.
Tell us about yourself
I'm a fiddler from Shetland and I've played music professionally for 20 years. I am a member of award winning bands; Blazin' Fiddles and RANT.
As a soloist I perform with fellow Shetlander and pianist, Harris Playfair.
I co-curated the Shetland Fiddle Frenzy festival of 2013-2015, a week long programme of tuition, crafts, and concert performance throughout Shetland.
I am the administrator for Blazin' in Beauly – an award winning winter music school hosted by fiddle band Blazin' Fiddles. It welcomes over 100 students every year, providing tuition on guitar, piano, fiddle and song as well as hosting some of the best international performers.
I performed on series 3 & 4 of the Transatlantic Sessions alongside Jerry Douglas and Aly Bain and performed with many artists including Martha Wainwright and Julie Fowlis.
I have released five solo albums from 2005 to 2019.
'With Silver & All', 'Laughing Girl', 'Morning Moon', 'Live in Shetland' and 'Working Hands'.
As a finalist of the prestigious Paul Hamlyn Award, 'Working Hands' is a stunning collection of writing featuring Mr McFall's Chamber, Harris Playfair, Iain Sandilands & Stuart Semple, an incredible collection of the finest musicians.
I have released a book of my compositions a book entitled 'The Quarff Collection'.
I was the winner of Best Up and Coming Artist at the 2005 Trad Awards, in 2007 I was nominated as Best Instrumentalist and in 2008 was a recipient of Donald Dewar Award.
I have a BA Honours degree in Scottish Music from the RSAMD, Glasgow.
Why are you involved in Scottish music?
I left Shetland to study music and I during that time I toured with Dochas, Deaf Shepherd, Filska, Julie Fowlis and I am a member of both Blazin' Fiddles and RANT.
I absolutely love playing music with Harris Playfair, my long-time piano accompanist – it is truly one of the most thrilling experiences.
Music has always been my first love and I was thrilled to learn that I had the opportunity to study it further. After twenty years, I still love it and I'm still learning.
Any particular career highlights?
Transatlantic Sessions was a huge highlight for me as a performer. As a composer, being nominated for the Paul Hamyln was particularly special and the inspiration behind my new album, 'Working Hands'. Writing for McFall's Chamber and performing with them alongside Harris Playfair and Iain Sandilands for the launch concert at the 2019 Celtic Connections is one of my proudest moments and something I will never forgot. It has encouraged me to continue to write and pursue new ideas and new collaborations.
What are your plans for the future?
To play, learn and write whilst finding inspiration in people and places that are dear to me and those that are still to be discovered.
Most of all to have fun and be happy.
Read more about Jenna Reid
http://www.jennareidmusic.com
Facebook: http://www.facebook.com/jennareid
Twitter: http://www.twitter.com/jennareidmusic
Instagram: http://www.instagram.com/jennareidmusic
If you wish to attend the final ceremony, tickets are are priced £25 (+ Booking Fee), and Concessions are available. To book please call Aberdeen Music Hall Box Office on 01224 641122, or visit: https://www.aberdeenperformingarts.com/whats-on/all-shows/the-mg-alba-scots-trad-music-awards/2734. Bands performing on Saturday 7th December include Skerryvore, Session A9, Benedict Morris (BBC Radio Scotland Young Traditional Musician Award Winner 2019), Heisk, Aberdeenshire Youth Band, Sian, Robyn Stapleton, Mairi Campbell and the Pendulum Band, Susan MacFadyen Scottish Dance Band and more to be announced. There will also be a late night ceilidh after the Awards till 1am.
If you would like to support Hands Up for Trad in their work with Scottish trad music and musicians please consider supporting our Patreon campaign. We have 3 tiers starting at $1 a month and everything helps support us in our work. Read more at www.patreon.com/handsupfortrad