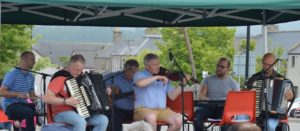 Congratulations to Gary Sutherland Band who have been nominated in Dance band of the Year sponsored by National Association of Accordion and Fiddle Clubs in the MG ALBA Scots Trad Music Awards 2019. Vote now!
We asked Gary Sutherland of Gary Sutherland Band the following questions.
Tell us about yourself
The Gary Sutherland Band is made up of Gary himself on lead accordion; John Burns on second accordion; Willie Johnstone on fiddle; Alan Sutherland – Gary's brother – on drums; Brian Cruickshank on bass; and Craig Paton on piano.
The band formed in 2005 and throughout this time have supported Hands Up for Tad's on numerous occasions along with members of the band being nominated in their respective categories over the years. The band have been broadcasting for over 10 years and in this time have released two successful albums, appeared on BBC Radio Scotland's Take the Floor on numerous occasions and the band have also had several BBC television appearances.
Gary has been crowned Senior Scottish Accordion Champion at the Perth All-Scotland Accordion and Fiddle Festival on two occasions, first in 2005 and secondly in 2008. Other members of the band have also won and been finalist in this competition over the years.
Why are you involved in Scottish music?
From a very young age, Gary and Alan have been surrounded by Scottish music and musicians through their father's love of the music and their grandfather's long friendship with Jimmy Shand. Attending festivals, dances and gatherings was a big part of their life growing up. Gary and Alan have both made friends for life through the music like their grandparents and parents and hope that this continues for the next generations coming through the scene.
Any particular career highlights?
Being nominated in the Scottish Dance band of the Year category at this year's Trad Awards is a huge highlight for the band. Other highlights of the band's career include broadcasting for BBC Scotland's Take the Floor and traveling the world. As well as the UK and Ireland the band have visited Australia, Germany, Holland, America, South Korea and the Middle East.
The band love to play live to a dancing audience, notable events being The Celtic and Balfolk Festival in Rotterdam, Celtic Connections and their annual trips to Wellington Barracks in London for Burns night and Up Helly Aa in Shetland.
What are your plans for the future?
The band are working on a new CD just now to follow up from their other two albums. The band are also excited to be doing a live broadcast for BBC Radio Scotland's Take the Floor for St. Andrews night in St. Andrews which is looking to be a great event.
Gary and the members will continue to help promote traditional music by playing, performing and attending music events and they will also encourage as many people they can to learn and enhance their skills in their chosen instrument.
Read more about Gary Sutherland Band
Facebook: http://www.facebook.com/
Twitter: http://www.twitter.com/
Instagram: http://www.instagram.com/
If you wish to attend the final ceremony, tickets are are priced £25 (+ Booking Fee), and Concessions are available. To book please call Aberdeen Music Hall Box Office on 01224 641122, or visit: https://www.aberdeenperformingarts.com/whats-on/all-shows/the-mg-alba-scots-trad-music-awards/2734. Bands performing on Saturday 7th December include Skerryvore, Session A9, Benedict Morris (BBC Radio Scotland Young Traditional Musician Award Winner 2019), Heisk, Aberdeenshire Youth Band, Sian, Robyn Stapleton, Mairi Campbell and the Pendulum Band, Susan MacFadyen Scottish Dance Band and more to be announced. There will also be a late night ceilidh after the Awards till 1am.
If you would like to support Hands Up for Trad in their work with Scottish trad music and musicians please consider supporting our Patreon campaign. We have 3 tiers starting at $1 a month and everything helps support us in our work. Read more at www.patreon.com/handsupfortrad