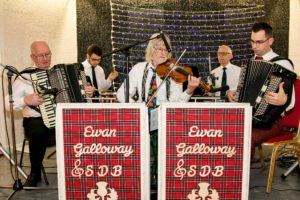 Congratulations to Ewan Galloway Scottish Dance Band who have been nominated in Dance band of the Year sponsored by National Association of Accordion and Fiddle Clubs in the MG ALBA Scots Trad Music Awards 2019. Vote here! Vote now!
We asked Ewan Galloway of Ewan Galloway Scottish Dance Band the following questions.
Tell us about yourself
I started playing the Accordion from the age of 14 ½ under the tuition of John Leslie after being inspired by David Patrick of Innerwick. At the age of 16 the first band line up was formed and we have developed ever since. Now 15 years later, with a wealth of knowledge from members of the band we have taken our music to a great height. Our band members have travelled to many countries including Holland, China, Japan and America keeping our great Scottish music alive. 6 CDs have been released and the band has performed at a wide variety of events from Accordion and Fiddle Clubs, Country Dancing, Ceilidhs, Old Tyme dances to festivals, including playing on BBC Countryfile where the presenters performed an Eightsome Reel. The band can cater for all events as we comprise of 2 Accordions, Fiddle, Drums and Keyboard – the sound created is always full of energy and lift.
Why are you involved in Scottish music?
I have always been interested in music from a very young age by dancing at our high school ceilidhs which highlighted the Scottish genre and made me want to learn the accordion, especially after seeing David Patrick play, I was hooked and the first accordion was bought. Playing Scottish music gives everyone such a great lift, when you see dancers smiling and enjoying themselves it really makes for a great night. There is a feeling when playing Scottish music that just gets inside you, the rhythm, the sound, the style but most of all the love of playing it. Keeping our Scottish music alive and to the forefront for the future is key.
Any particular career highlights?
The band has had many great highlights over the last 15 years. Having played twice for the Royal Highland Show, on the second occasion we were very lucky to perform for the BBC Countryfile team with dance calling by Matt Baker. Later that day we then performed for a Guinness world record playing for the largest Eightsome Reel on an open field. I was delighted to be asked to play on one of the Golden ticket trains for the opening of the new Borders railway line from Edinburgh to Galashiels, giving the passengers a taste of our great Scottish music.
The band has been lucky to perform a number of broadcasts for the BBC show "Take the Floor".
We have travelled to the Netherlands to perform for the RSCDS international weekends and was delighted to be invited this year to play for the RSCDS Summer School at St Andrews, allowing me to meet many people from all over the world. I have also been booked to play on the cruise ships, which I find very rewarding speaking to many visitors to our Scottish shores.
Most recently we flew to the Shetland Accordion and Fiddle festival where we had an absolute ball, playing for a large amount of dancers and listeners in the dances and concerts.
What are your plans for the future?
My main focus is ensuring that our great Scottish dance music is kept to the forefront and advertised. This is important for not only our band but every other musician in the circuit. We have some amazing trips lined up to perform in the Netherlands again, Belfast, Bristol and various other festivals including the Keith festival for the 2nd year in a row in 2020, we are the first band to be invited for a second year in succession.
With the help of Derek Hamilton we have set up a brand new online radio station running 24 hours a day 7 days a week bringing the listener the very best of Scottish dance music. Working with other presenters across the UK we have managed to grow our programme schedule with more being added all the time.
A new CD specifically for Scottish Country Dancing is well underway and not long after that we look forward to producing another exciting CD for our dancers and listeners who have become our faithful and dedicated followers.
Read more about Ewan Galloway Scottish Dance Band
http://www.ewangalloway.co.uk
Facebook: http://www.facebookhttps://www.facebook.com/ewangallowaymusic/.com/
Twitter: http://www.twitter.comhttps://twitter.com/ewangmusic?lang=en/
Instagram: http://www.instagram.com/
If you wish to attend the final ceremony, tickets are are priced £25 (+ Booking Fee), and Concessions are available. To book please call Aberdeen Music Hall Box Office on 01224 641122, or visit: https://www.aberdeenperformingarts.com/whats-on/all-shows/the-mg-alba-scots-trad-music-awards/2734. Bands performing on Saturday 7th December include Skerryvore, Session A9, Benedict Morris (BBC Radio Scotland Young Traditional Musician Award Winner 2019), Heisk, Aberdeenshire Youth Band, Sian, Robyn Stapleton, Mairi Campbell and the Pendulum Band, Susan MacFadyen Scottish Dance Band and more to be announced. There will also be a late night ceilidh after the Awards till 1am.
If you would like to support Hands Up for Trad in their work with Scottish trad music and musicians please consider supporting our Patreon campaign. We have 3 tiers starting at $1 a month and everything helps support us in our work. Read more at www.patreon.com/handsupfortrad