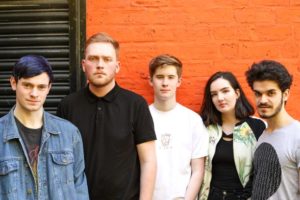 Congratulations to DLÙ who have been nominated in Up and Coming Artist of the Year sponsored by Royal Conservatoire of Scotland in the MG ALBA Scots Trad Music Awards 2019. Vote here! Vote now!
We asked Zach Ronan of DLÙ the following questions.
Tell us about yourself
DLÙ are a modern trad fusion band from Glasgow. The five-piece line-up features Moilidh NicGriogair on fiddle, Zach Ronan on accordion, Aidan Spiers on guitar, Jack Dorrian on bass and Andrew Grossart on drum kit. Winners of the Danny Kyle Open Stage 2018, their progressive arrangements, eclectic musical influences and youthful energy set them apart from their peers.
In August 2018 they released their debut single 'Anmoch'. Their debut EP, 'Taobh na Mara', followed in January 2019.
Whilst the trad influence can be heard clearly in the melodies they compose, this is only one feature of the overall sound. Classical influence can be heard in the violin/fiddle and accordion parts, as Moilidh and Zach use techniques not typical of the trad genre. Aidan, Jack and Andrew come from a popular music background. Their combination of funk, rock and jazz gives each set a distinctive feel. They also bring their instruments to the forefront with solos and fills. The merging of these various elements is the essence of the band's sound.
Why are you involved in Scottish music?
Zach, Andrew, Aidan and Moilidh met and became friends during their time at the Glasgow Gaelic School. Although we all had very different musical backgrounds, Scottish music is what we first played together as a group. This is what inspired our name which derives from the Gaelic word 'dlùth', meaning tight-knit and close. As fluent Gaelic speakers, we are keen to use the band as a platform for the language and the music. Bassist Jack Dorrian joined us in April 2018. He had no prior exposure to Scottish music but fell in love with it straight away and now feels equally as strongly about playing, performing and promoting it as the rest of us.
Any particular career highlights?
The first time we performed together was on the Danny Kyle Open Stage at Celtic Connections in 2018 which felt like a defining moment for all of us.
Our EP Launch in January 2019 was a big highlight as it was a sell out and had a fantastic atmosphere.
Finally, we supported the amazing Elephant Sessions in May 2019 and that was an incredible experience as we are big fans!
What are your plans for the future?
We currently working on our debut album which we hope will be released next year. We are very keen to start performing regularly at different festivals across the UK, Europe and further afield. In short, we just want our music to reach as many people as possible so that we can continue promoting original Scottish music and the Gaelic language.
Read more about DLÙ
http://www.dluband.com/
Facebook: https://www.facebook.com/dluband
Twitter: http://www.twitter.com/
Instagram: https://www.instagram.com/dluband/
If you wish to attend the final ceremony, tickets are are priced £25 (+ Booking Fee), and Concessions are available. To book please call Aberdeen Music Hall Box Office on 01224 641122, or visit: https://www.aberdeenperformingarts.com/whats-on/all-shows/the-mg-alba-scots-trad-music-awards/2734. Bands performing on Saturday 7th December include Skerryvore, Session A9, Benedict Morris (BBC Radio Scotland Young Traditional Musician Award Winner 2019), Heisk, Aberdeenshire Youth Band, Sian, Robyn Stapleton, Mairi Campbell and the Pendulum Band, Susan MacFadyen Scottish Dance Band and more to be announced. There will also be a late night ceilidh after the Awards till 1am.
If you would like to support Hands Up for Trad in their work with Scottish trad music and musicians please consider supporting our Patreon campaign. We have 3 tiers starting at $1 a month and everything helps support us in our work. Read more at www.patreon.com/handsupfortrad