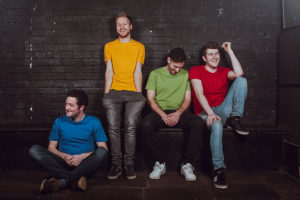 Congratulations to Dallahan who have been nominated in Folk band of the Year sponsored by Threads of Sound in the MG ALBA Scots Trad Music Awards 2019. Vote here! Vote now!
We asked Jack Badcock of Dallahan the following questions.
Tell us about yourself
Dallahan is one of the most distinct forces in the international folk music scene. Forged in Scotland and Ireland's traditional music community, but drawing on the traditional music styles of the Balkans and North America, they create an original and seamless musical montage, blending their contemporary influences from jazz, funk, and pop music. Dallahan take their listeners on a journey, traversing styles and countries of the world in a dazzling live show, creating their own unique brand of World-folk delivered with stunning virtuosity. The lineup consists of Jack Badcock on guitar and vocals, Ciaran Ryan on banjo, mandolin and fiddle, Andrew Waite on accordion and David Lombardi on fiddle. Following the release of their debut album 'When The Day Is On The Turn' in 2014, which was highly praised by audiences and critics alike, described by fRoots magazine as "the most exciting Irish music I've heard in a long time…Lunasa for the new generation" ­the band toured extensively in North America and Europe, establishing themselves internationally as one of the most enthralling live shows, captivating audiences at such prestigious international events as Milwaukee Irish Fest, Celtic Connections, Tonder Festival and countless others. In 2015, the band was nominated for 'Folk Band of The Year' and their debut album shortlisted for 'Album of the Year' at the Scots Trad Music Awards.The following year, 2016 saw the Dallahan's continued ascent with the release of their second album, 'Matter Of Time', and a most intensely busy touring schedule, playing 103 gigs across 7 countries, including travelling to Kathmandu, Nepal to on behalf of the British Council to perform at the British/Nepalese bicentenary celebrations. In 2016 their second album was shortlisted for 'Album of the Year' at the Scots Trad Music Awards and they were awarded 'Instrumental Cut of The Year' at the LiveIreland Awards 2016 (USA). Their touring history has included such onstage collaborations as with songwriting legend Dougie MacLean, a commissioned composition and collaboration with the Royal Scottish National Orchestra at a WWI commemorative concert and also a concert in Kathmandu with Nepal's folk music exponents, Kutumba. 2019 sees the release of the bands third album, their label debut with Westpark Records; "Smallworld", with songs that explore themes ranging from unrequited love, famine, racial inequality and big birds and instrumentals that transcend from traditional Irish tunes to Roma Gypsy melodies to genre-defying originals."
Why are you involved in Scottish music?
Each member of Dallahan come from a musical family so the interest and passion for Scottish music has been passed down though generations. Through our touring career we also have the privilege of playing our music around Europe so are able to showcase and celebrate our Scottish-influenced music and share it with other cultures.
Any particular career highlights?
Dallahan has toured extensively across the UK and Europe and were lucky enough travel to Nepal and play with Nepalese band Katumba which was a brilliant experience, as well as tours in America (including Milwaukee Irish festival).
What are your plans for the future?
We have plans to bring out a fourth album and will be touring more across Europe and further afield.
Read more about Dallahan
http://www.dallahanmusic.com/
Facebook: https://www.facebook.com/DallahanMusic/
Twitter: http://www.twitter.com/
Instagram: http://www.instagram.com/
If you wish to attend the final ceremony, tickets are are priced £25 (+ Booking Fee), and Concessions are available. To book please call Aberdeen Music Hall Box Office on 01224 641122, or visit: https://www.aberdeenperformingarts.com/whats-on/all-shows/the-mg-alba-scots-trad-music-awards/2734. Bands performing on Saturday 7th December include Skerryvore, Session A9, Benedict Morris (BBC Radio Scotland Young Traditional Musician Award Winner 2019), Heisk, Aberdeenshire Youth Band, Sian, Robyn Stapleton, Mairi Campbell and the Pendulum Band, Susan MacFadyen Scottish Dance Band and more to be announced. There will also be a late night ceilidh after the Awards till 1am.
If you would like to support Hands Up for Trad in their work with Scottish trad music and musicians please consider supporting our Patreon campaign. We have 3 tiers starting at $1 a month and everything helps support us in our work. Read more at www.patreon.com/handsupfortrad