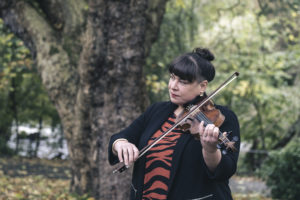 Congratulations to CLAIRE GULLAN who have been nominated in Music Tutor of the Year sponsored by Creative Scotland Youth Music Initiative in the MG ALBA Scots Trad Music Awards 2019. Vote here! Vote now!
We asked CLAIRE GULLAN of CLAIRE GULLAN the following questions.
Tell us about yourself
I am currently studying for a Masters in Education in the Performing Arts at the Royal Conservatoire of Scotland, working around being a freelance musician, instrumental tutor, Scottish composer, podcaster and maker of art based in Glasgow.
I tutor a diverse range of students privately, in both fiddle and violin, and I'm the author of "A Guide To Learning The Fiddle Book 1".
This year, I launched community music workshops called "HOW TO… CEILIDH", as well as other creative Scottish music workshops which arein conjunction with Glasgow Disability Alliance.
I am also involved in a range of community projects throughout Scotland, including the Cowal Fiddle Workshop and the Lochgoildhead Fiddle Workshop, both in Argyll, as well as tutoring at various RCS outreach projects.
Why are you involved in Scottish music?
BECAUSE I LOVE IT! (but also because of my Mum and Dad's lifelong encouragement and support).
Any particular career highlights?
Completing my first music tutor book was a great feeling and shipping it internationally to the likes of the USA and Australia are real highlights!
I am over the moon at being nominated for this year's Trad Awards' "Music Tutor of the Year", as well as taking up two new fiddle tutor posts – one at The Cowal Fiddle Workshop and the other at The Lochgoilhead Fiddle Workshop.
What are your plans for the future?
The Masters in Education degree is three years part-time and I am very much looking forward to the challenges and new knowledge this Continuing Professional Development will bring. As part of that, I am hoping to explore working with people who have learning difficulties and have a greater understanding of the Autistic spectrum.
I also hope to complete my second tutor book "A Guide To Learning The Fiddle Book 2".and fit in a good few more "Claire's Ceilidh" podcasts.
Read more about CLAIRE GULLAN
http://clairegullanmusic.co.uk
Facebook: https://www.facebook.com/clairegullanmusic
Twitter: http://www.twitter.com/
Instagram: http://www.instagram.com/
If you wish to attend the final ceremony, tickets are are priced £25 (+ Booking Fee), and Concessions are available. To book please call Aberdeen Music Hall Box Office on 01224 641122, or visit: https://www.aberdeenperformingarts.com/whats-on/all-shows/the-mg-alba-scots-trad-music-awards/2734. Bands performing on Saturday 7th December include Skerryvore, Session A9, Benedict Morris (BBC Radio Scotland Young Traditional Musician Award Winner 2019), Heisk, Aberdeenshire Youth Band, Sian, Robyn Stapleton, Mairi Campbell and the Pendulum Band, Susan MacFadyen Scottish Dance Band and more to be announced. There will also be a late night ceilidh after the Awards till 1am.
If you would like to support Hands Up for Trad in their work with Scottish trad music and musicians please consider supporting our Patreon campaign. We have 3 tiers starting at $1 a month and everything helps support us in our work. Read more at www.patreon.com/handsupfortrad