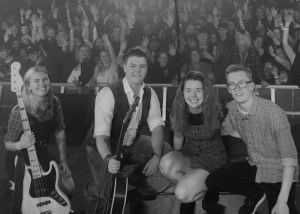 Congratulations to Calum Jones & The Trad Project who have been nominated in Up and Coming Artist of the Year sponsored by Royal Conservatoire of Scotland in the MG ALBA Scots Trad Music Awards 2019. Vote here! Vote now!
We asked Calum Jones of Calum Jones & The Trad Project the following questions.
Tell us about yourself
Brought together by Calum Jones "The Trad Project" hit the festival scene running in 2018, winning over crowds at every performance with their high intensity tune sets and original, hook filled, songs that you just can't help but sing along to.
Following their debut performance at Gordon Castle Highland games in May they went on to support Elephant Sessions at The Ironworks, Inverness, perform at Tiree, Speyfest, Belladrum, Eden festival, Killin & more.
They brought a very successful first year to a close performing to 10,000 people at the Inverness, Red Hot Highland Fling.
2019 has seen them go from strength to strength with a multitude of festival slots including Gig in The Goil, The Gathering, Eden, Doune The Rabbit Hole, Tunes By The Dunes and a Grass Roots Stage slot at the sold out Belladrum.
Taking Trad to the next level – These guys are not to be missed
Why are you involved in Scottish music?
Just love it. Love the tunes, Love the vibe, Love the camaraderie among the musicians and Love all the people that come out to support.
Any particular career highlights?
Performing to 10,000 people at the Red Hot Highland Fling was an experience we will never forget, It was phenomenal, but the stand out gigs for us this year have been at Belladrum, Eden and Tunes By The Dunes, the crowds were absolutely amazing and to hear everyone singing along to our songs is just the best feeling in the world.
What are your plans for the future?
To do it all again. We've already announced our return to Tunes By The Dunes and theres loads more festivals planned for next year. We're working on new material and planning our first EP release before the summer.
Read more about Calum Jones & The Trad Project
http://www.calumjonesmusic.com/the-trad-project
Facebook: http://www.facebook.com/TheTradProject/
Twitter: http://www.twitter.com/TheTradProject
Instagram: http://www.instagram.com/TheTradProject
If you wish to attend the final ceremony, tickets are are priced £25 (+ Booking Fee), and Concessions are available. To book please call Aberdeen Music Hall Box Office on 01224 641122, or visit: https://www.aberdeenperformingarts.com/whats-on/all-shows/the-mg-alba-scots-trad-music-awards/2734. Bands performing on Saturday 7th December include Skerryvore, Session A9, Benedict Morris (BBC Radio Scotland Young Traditional Musician Award Winner 2019), Heisk, Aberdeenshire Youth Band, Sian, Robyn Stapleton, Mairi Campbell and the Pendulum Band, Susan MacFadyen Scottish Dance Band and more to be announced. There will also be a late night ceilidh after the Awards till 1am.
If you would like to support Hands Up for Trad in their work with Scottish trad music and musicians please consider supporting our Patreon campaign. We have 3 tiers starting at $1 a month and everything helps support us in our work. Read more at www.patreon.com/handsupfortrad