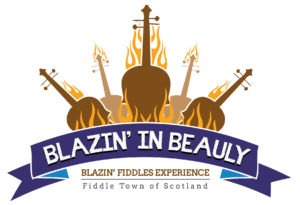 Congratulations to Blazin' in Beauly who have been nominated in Community Project of the Year in the MG ALBA Scots Trad Music Awards 2019. Vote now!
We asked Rua Macmillan of Blazin' in Beauly the following questions.
Tell us about yourself
Blazin' in Beauly is an annual music school organised and run by fiddle supergroup Blazin' Fiddles, now in its 19th year. It takes place each October in the picturesque Highland village of Beauly, and is a chance for students of all ages and abilities to immerse themselves in a week of intensive tuition, talks, workshops, group work, singing, master classes, concerts and of course, sessions. Each year the Blazers invite a guest tutor, who in the past have included Alasdair Fraser, Troy MacGillivary, Liz Docherty and many more.
Why are you involved in Scottish music?
As Blazin' Fiddles, we have been lucky enough to learn with some of the most notable tradition bearers in Scotland, and this is our way of passing on that knowledge, and keeping the fiddle traditions of the Highlands and Islands alive.
Any particular career highlights?
With students coming from as far afield as Japan, South Australia, and Canada and the U.S.A – as well as the UK – it is really encouraging to see the interest in Scottish music growing! This year we had over 140 students, and a seemingly week-long session broke out!
Seeing people of all ages form lifelong friendships and even starting bands and regular meet ups outside Beauly is amazing!
A big fixture on the Last day has always been our concert for the local charity, Beauly Cares, where we curate a performance featuring the band, the group work and singing classes, and perform for some of Beauly's older residents too!
What are your plans for the future?
With next year being our 20th, we are already planning an extravanganza of concerts, classes and a good few surprises too!
Read more about Blazin' in Beauly
http://www.blazininbeauly.com
Facebook: http://www.facebook.com/blazininbeauly
Twitter: http://www.twitter.com/
Instagram: http://www.instagram.com/
If you wish to attend the final ceremony, tickets are are priced £25 (+ Booking Fee), and Concessions are available. To book please call Aberdeen Music Hall Box Office on 01224 641122, or visit: https://www.aberdeenperformingarts.com/whats-on/all-shows/the-mg-alba-scots-trad-music-awards/2734. Bands performing on Saturday 7th December include Skerryvore, Session A9, Benedict Morris (BBC Radio Scotland Young Traditional Musician Award Winner 2019), Heisk, Aberdeenshire Youth Band, Sian, Robyn Stapleton, Mairi Campbell and the Pendulum Band, Susan MacFadyen Scottish Dance Band and more to be announced. There will also be a late night ceilidh after the Awards till 1am.
If you would like to support Hands Up for Trad in their work with Scottish trad music and musicians please consider supporting our Patreon campaign. We have 3 tiers starting at $1 a month and everything helps support us in our work. Read more at www.patreon.com/handsupfortrad