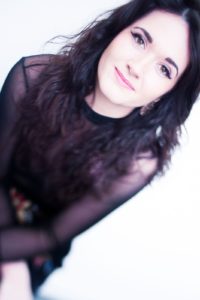 Congratulations to Amy Papiransky who have been nominated in Citty Finlayson Scots Singer of the Year sponsored by TMSA in the MG ALBA Scots Trad Music Awards 2019. Vote here! Vote now!
We asked Amy Papiransky of Amy Papiransky the following questions.
Tell us about yourself
I am a singer-songwriter based in Glasgow but originally from the small town of Keith in the North-East of Scotland. I have been gathering and writing songs over the last eight years and this year I saw the release of my debut album 'Read Me Write' which was released on the first of September.
Since making the final of the BBC Young Traditional Musician of the Year competition in 2018, I have been slowly but surely carving my name in the Scottish folk scene whilst holding down my full-time music-teaching job in a secondary school. I am a classically trained multi-instrumentalist who has a huge love for Scottish music and our tradition. Past performances include; BBC Radio Scotland's 'Take the Floor', BBC Proms in the Park and The Lotus Temple in New Delhi to name a few.
Why are you involved in Scottish music?
I started singing and learning the piano when I was 7 but picked up the fiddle my dad made me when I was 12. After watching the local Strathspey fiddlers play at a gala day, I loved the Scottish tunes they were playing and it looked like so much fun performing in a group with your friends – I hadn't even touched a fiddle but I was determined to join. I learned up the repertoire and a year later I was playing and singing with them. Being the youngest in the group for a couple of years, the older members introduced me to folk bands and scots singers and I soon realised that this was the style of music I enjoyed listening to.
Throughout my years studying to be a music teacher, I was training in classical music but I would travel down to Glasgow for trad piano lessons and tried to go to as many traditional music gigs as possible. After moving down to Glasgow for my teaching career I studied a Masters in Scottish music at the Royal Conservatoire of Scotland and was lucky enough to be taught more singing and piano repertoire under Fiona Hunter and James Ross.
Any particular career highlights?
Definitely releasing my debut album – being able to share and record my songs has always been a huge goal for me since I was 15/16. I feel so fortunate to have worked with some of the finest musicians in the folk scene and to have worked alongside producer Angus Lyon. The support from my band and from the people who helped fund my album has meant so much to me and I still can't believe it.
What are your plans for the future?
Firstly, I will continue to write songs (doric ones too) as this seems to be the best way I can express myself. I will continue to work as a secondary school music teacher – I am so passionate about sharing my love for music with the younger generation …. and I also need to pay my mortgage.
I am working so hard just now to fill the calendar with as many gigs / festivals as possible as performing with my band is definitely my favourite thing to do and I just want to share my songs with as many people as possible.
Read more about Amy Papiransky
http://amypapiransky.com
Facebook: https://www.facebook.com/amypapiranskymusic/http://www.facebook.com/
Twitter: https://twitter.com/AmyR_Papiransky
Instagram: https://www.instagram.com/amypapiranskymusic/
If you wish to attend the final ceremony, tickets are are priced £25 (+ Booking Fee), and Concessions are available. To book please call Aberdeen Music Hall Box Office on 01224 641122, or visit: https://www.aberdeenperformingarts.com/whats-on/all-shows/the-mg-alba-scots-trad-music-awards/2734. Bands performing on Saturday 7th December include Skerryvore, Session A9, Benedict Morris (BBC Radio Scotland Young Traditional Musician Award Winner 2019), Heisk, Aberdeenshire Youth Band, Sian, Robyn Stapleton, Mairi Campbell and the Pendulum Band, Susan MacFadyen Scottish Dance Band and more to be announced. There will also be a late night ceilidh after the Awards till 1am.
If you would like to support Hands Up for Trad in their work with Scottish trad music and musicians please consider supporting our Patreon campaign. We have 3 tiers starting at $1 a month and everything helps support us in our work. Read more at www.patreon.com/handsupfortrad