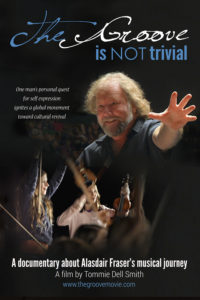 Congratulations to Tommie Dell Smith who have been nominated in Trad Music in the media sponsored by Skipinnish in the MG ALBA Scots Trad Music Awards 2018. Vote now!
We asked Tommie Smith of Tommie Dell Smith the following questions.
Tell us about yourself
THE GROOVE IS NOT TRIVIAL is a feature documentary about Scottish Fiddler Alasdair Fraser. One man's quest for personal expression ignites a global movement toward cultural revival.
Why are you involved in Scottish music?
When my now 30-year-old daughter attended Valley of the Moon Scottish Fiddling School fell in love with Alasdair, Scottish music and the entire fiddle community, I was hooked as well. It has been a life changing experience for us both. With his universal message of finding one's voice and seeking joy, with beautiful music and inclusive community as the vehicle, Alasdair has been the perfect subject for a documentary that needs to be shared.
Any particular career highlights?
The making of this documentary has been an incredible affirmation of the generosity and love that so thoroughly embraces the trad music community. The film was entirely crowd funded and supported from the very first right through to today. In addition to introducing me to trad music communities in Scotland, Spain and the US, it has also allowed me to share this joy with audiences around the world.
What are your plans for the future?
I have always made documentaries supporting projects in the arts that have a positive, hopeful message. I expect to continue, though my immediate plan is to support The Groove's movement around the planet, bringing a gift of hope, joy and fantastic music in these stressful times.
Read more about Tommie Dell Smith
http://thegroovemovie.com
Facebook: http://www.facebook.com/thegrooveisnottrivial
Twitter: http://www.twitter.com/tommiedellsmith
If you wish to attend the final ceremony, tickets are available to buy via: https://www.horsecross.co.uk/whats-on/the-mg-alba-scots-trad-music-awards-35002 For box office call 01738 621031 or email box@horsecross.co.uk. Bands performing on Saturday 1st December include includes Croft No Five, Mànran, Karine Polwart Trio, Hannah Rarity, Eabhal, Catriona Watt, Gordon Duncan Experience and Gerda Stevenson. and more to be announced. There will also be a late night ceilidh after the Awards till 1am.
If you would like to support Hands Up for Trad in their work with Scottish trad music and musicians please consider supporting our Patreon campaign. We have 3 tiers starting at $1 a month and everything helps support us in our work. Read more at www.patreon.com/handsupfortrad