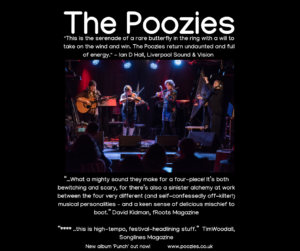 Congratulations to The Poozies who have been nominated in Album of the Year sponsored by Birnam CD in the MG ALBA Scots Trad Music Awards 2018. Vote now!
We asked Eilidh Shaw of The Poozies the following questions.
Tell us about yourself
The Poozies were at the forefront of a wave that revolutionised traditional music in Scotland in the 1990s. They have since become an important institution, both within Scotland and as international ambassadors of Scottish music. The band has continued to develop over time, incorporating new influences while evolving and remaining fresh. This album sees original member Mary Macmaster and longtime cohort Eilidh Shaw joined by Orkney's Sarah McFadyen on fiddle, 5-string banjo and vocals, and Tia Files from Oban on driving guitar and bass drum, giving the band a fresher, edgier sound. The album 'Punch' has had fantastic reviews, with quotes such as:
"**** ..this is high-tempo, festival-headlining stuff." TimWoodall, Songlines Magazine
"..outstanding originals, virtuoso interpretations and unexpected arrangements take you into uncharted realms … unique spheres that need no labels." Tim Carroll, FolkWords
"…What a mighty sound they make for a four-piece! It's both bewitching and scary, for there's also a sinister alchemy at work between the four very different (and self-confessedly off-kilter!) musical personalities – and a keen sense of delicious mischief to boot." David Kidman, fRoots Magazine
Why are you involved in Scottish music?
That's where the money is! 😉
Any particular career highlights?
The band has enjoyed prodigious success with numerous successful tours of Germany, Italy, Denmark, Holland, Belgium, Scotland and England. They were chosen to represent Britain in Egypt and Turkey by the British Council, and are previous winners of the Eiserner Eversteiner Folk Award in Plauen, Germany. They have won the fastest-selling act at Glasgow's Celtic Connections and have appeared at international festivals in Woodford, Illawarra, Cologne, Rudolstadt, Skagen, Tønder, and many others.
What are your plans for the future?
The band are looking forward to a great 2019 with three UK tours already lined up and several festivals at home and abroad.
Read more about The Poozies
http://www.poozies.co.uk
Facebook: http://www.facebook.com/thepoozies
Twitter: http://www.twitter.com/pooziepooz
If you wish to attend the final ceremony, tickets are available to buy via: https://www.horsecross.co.uk/whats-on/the-mg-alba-scots-trad-music-awards-35002 For box office call 01738 621031 or email box@horsecross.co.uk. Bands performing on Saturday 1st December include includes Croft No Five, Mànran, Karine Polwart Trio, Hannah Rarity, Eabhal, Catriona Watt, Gordon Duncan Experience and Gerda Stevenson. and more to be announced. There will also be a late night ceilidh after the Awards till 1am.
If you would like to support Hands Up for Trad in their work with Scottish trad music and musicians please consider supporting our Patreon campaign. We have 3 tiers starting at $1 a month and everything helps support us in our work. Read more at www.patreon.com/handsupfortrad