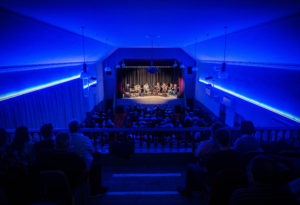 Congratulations to The Arc Sessions (Fochabers) who have been nominated in Club of the Year sponsored by Trac Scotland in the MG ALBA Scots Trad Music Awards 2018. Vote now!
We asked Mhairi Marwick of The Arc Sessions (Fochabers) the following questions.
Tell us about yourself
I was brought up on a farm just outside Fochabers in the Moray area. When I was younger I remember going along to lots of amazing concerts in the Fochabers Institute. It was so inspirational seeing the top Scottish folk musicians playing at our local hall. Looking back, this played a big part towards me pursing a career in music. There has not been regular gigs in Fochabers for years now and I thought I would love to do something about it!
In 2016, I created 'The Arc Sessions', with the aim of bringing some of the best live music acts to Fochabers, showcasing the incredible talent there is in this country. Over the years I have been delighted to welcome Skerryvore, Sharon Shannon, Phil Cunningham & Aly Bain, Skipinnish, James Alexander & Friends, Blazin Fiddles, Session A9, Imar, Breabach, Old Blind Dogs, Calum Stewart, Rura, Emily Smith and many more!
A key element of The Arc Sessions, is showcasing local talent and giving young and old a platform to perform as support acts. Thank you to Christy Scott, Fochabers Fiddle Week, Speyfest's Young Entertainer of the Year Finalists, The Fochabers Fiddlers, Macaulay Ross, James Macgregor, The Arc Fiddlers, Calum Jones, Erika & Briony Stewart, Rosie Winchester, The Rowies and Rockset Choir for providing brilliant music to open the concerts.
I have a huge passion to promote Scottish music to people of all ages and The Arc Sessions provides an exciting opportunity for people of the community to come and see the best of Scotland's live music on their doorstep.
Why are you involved in Scottish music?
I love playing, teaching and listening to Scottish music and feel so passionate about promoting what's happening in todays scene. The scene is so vibrant and full of exciting opportunities that I have been fortunate enough to experience and be part of. One particular aspect that I really enjoy is sharing music with other generations and inspiring them for the future. Music really brings communities together and that is something really special.
Any particular career highlights?
Every Arc Sessions gig has been a highlight thanks to the incredible bands/musicians who have performed for us. One particular highlight this year was 'An Evening with James Alexander & Friends'. This was a really special night as local hero and fiddle teacher James Alexander MBE took to the stage with a whole host of incredible musicians he has performed with over the years. Paul Anderson, Charlie Mckerron, Douglas Lawrence, Gregor Borland and many others joined James for 2 sold out concerts!! This was absolutely incredible to see 600+ people walk through the doors of the local Fochabers Institute to experience a very special one off line up. Donations were made for a local cancer charity close to James's heart and an incredible amount of £2600 was generously raised.
What are your plans for the future?
Sessions with help from an amazingly dedicated and passionate team. It's great to bring the community together to collaborate on developing Scotland's rich heritage of music. I would love The Arc Sessions to continue to grow and inspire other locals in the Moray area to keep Scottish music alive. I hope we can continue to bring lots of incredible bands and musicians to play and hope to give them a great experience of my hometown of Fochabers.
Read more about The Arc Sessions (Fochabers)
http://www.arcsessions.com
Facebook: http://www.facebook.com/thearcsessions
Twitter: http://www.twitter.com/
If you wish to attend the final ceremony, tickets are available to buy via: https://www.horsecross.co.uk/whats-on/the-mg-alba-scots-trad-music-awards-35002 For box office call 01738 621031 or email box@horsecross.co.uk. Bands performing on Saturday 1st December include includes Croft No Five, Mànran, Karine Polwart Trio, Hannah Rarity, Eabhal, Catriona Watt, Gordon Duncan Experience and Gerda Stevenson. and more to be announced. There will also be a late night ceilidh after the Awards till 1am.
If you would like to support Hands Up for Trad in their work with Scottish trad music and musicians please consider supporting our Patreon campaign. We have 3 tiers starting at $1 a month and everything helps support us in our work. Read more at www.patreon.com/handsupfortrad