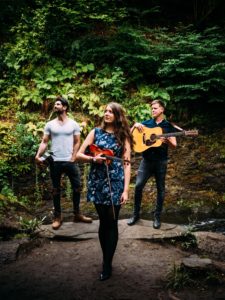 Congratulations to Talisk who have been nominated in Live Act of the Year sponsored by Greentrax Recordings in the MG ALBA Scots Trad Music Awards 2018. Vote now!
We asked Mohsen Amini of Talisk the following questions.
Tell us about yourself
Mohsen Amini (concertina), Hayley Keenan (fiddle) and Graeme Armstrong (guitar) create a captivating, energetic and dynamic sound that, in just a couple of years, has earned them multiple award wins, unwavering nationwide media praise, and standing ovations far and wide. Atop their collective titles, Amini was crowned the BBC Radio 2 Musician Of The Year adding to a trophy cabinet that far belies their years.
So too does their touring history, though – with appearances at world-leading festivals including the Cambridge Folk Festival, Denmark's Tønder, Celtic Colours in Cape Breton, Fairport's Cropredy Convention and Celtic Connections, as well as countiess others alongside live sessions on both BBC Radio 2 and BBC Radio Scotland's flagship folk programmes. With further tours and showcases throughout Europe and the US on the horizon, theirs is a star firmly, and rapidly, on the ascent.
Why are you involved in Scottish music?
Scottish music is the music we have been brought up with! It's also such a forward thinking scene! Everyone is trying to push the boundaries of what they can do, where the music can go, fusing it with different genres and now more than ever, putting more production into the whole package!
We never thought growing up that Scottish music would be on massive stages with crowds jumping around having an amazing time, but I'm been happily corrected and it's to us by far the best music in the world to be part of!!
Any particular career highlights?
We've had so many great times in Talisk and there are highlights everywhere! The thing that started us as a band was the BBC Radio 2 Young Folk Award, it gave us a step into the scene and a platform to make some sort of impact! Since them we've travelled all over the world and it's been amazing. Highlights of that would be Cambridge FF, Tonder, Milwaukee & Philadelphia FF. But our greatest achievement and most significant would be picking up the Folk Band of the Year at the Scots Trad Music Awards last year!!
What are your plans for the future?
We've just released our seconds album "Beyond",We are currently on tour around the UK, Denmark & Spain. In 2019 we will be heading off around the UK, USA, Canada, Europe and Asia. We have a couple of pretty big announcements to make as well but we can't tell about them quite just yet!!
Exciting times ahead!!
Read more about Talisk
http://www.talisk.co.uk
Facebook: http://www.facebook.com/Taliskmusic
Twitter: http://www.twitter.com/Taliskmusic
If you wish to attend the final ceremony, tickets are available to buy via: https://www.horsecross.co.uk/whats-on/the-mg-alba-scots-trad-music-awards-35002 For box office call 01738 621031 or email box@horsecross.co.uk. Bands performing on Saturday 1st December include includes Croft No Five, Mànran, Karine Polwart Trio, Hannah Rarity, Eabhal, Catriona Watt, Gordon Duncan Experience and Gerda Stevenson. and more to be announced. There will also be a late night ceilidh after the Awards till 1am.
If you would like to support Hands Up for Trad in their work with Scottish trad music and musicians please consider supporting our Patreon campaign. We have 3 tiers starting at $1 a month and everything helps support us in our work. Read more at www.patreon.com/handsupfortrad