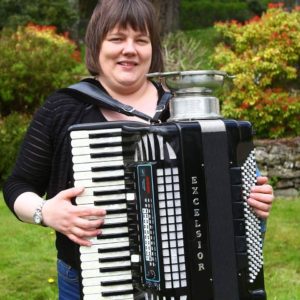 Congratulations to Susan MacFadyen Scottish Dance Band who have been nominated in Dance band of the Year sponsored by National Association of Accordion and Fiddle Clubs in the MG ALBA Scots Trad Music Awards 2018. Vote now!
We asked Susan MacFadyen of Susan MacFadyen Scottish Dance Band the following questions.
Tell us about yourself
The nucleus of the band is 2 sisters, Susan who plays accordion and Shona who plays fiddle. The band was formed in 2003 after being asked to perform as guest artists at Dingwall Accordion & Fiddle Club. Since then the band has gone on to perform at many other clubs, festivals & functions throughout the country from the borders in the south, to Barra & Tiree in the west and Shetland in the north. The band have also ventured in to England to play and further afield to play for scottish dance events in France, Germany, Austria and the Netherlands. The band has performed on BBC Radio Scotland's "Take The Floor" Programme on numerous occasions since their debut broadcast in 2007. The band regularly plays for Scottish Country Dancing all over the world.
Why are you involved in Scottish music?
As the band leader I have always had a passion for Scottish music, with family from the island of Tiree I was always surrounded by Scottish music on holidays to the island. The interest in Scottish music has grown from there where I first picked up an accordion. Scottish music is part of who I am and I'd be lost if I couldn't play Scottish music anymore.
Any particular career highlights?
Recording our first BBC Radio Scotland Take the Floor recording back in 2007.
Being invited to perform as a band at the Shetland Accordion and Fiddle Festival in 2007 and 2014.
What are your plans for the future?
Plans are well underway for the band to record their debut album of Scottish Dance Music.
Read more about Susan MacFadyen Scottish Dance Band
http://macfadyenceilidhband.com
Facebook: http://www.facebook.com/
Twitter: http://www.twitter.com/
If you wish to attend the final ceremony, tickets are available to buy via: https://www.horsecross.co.uk/whats-on/the-mg-alba-scots-trad-music-awards-35002 For box office call 01738 621031 or email box@horsecross.co.uk. Bands performing on Saturday 1st December include includes Croft No Five, Mànran, Karine Polwart Trio, Hannah Rarity, Eabhal, Catriona Watt, Gordon Duncan Experience and Gerda Stevenson. and more to be announced. There will also be a late night ceilidh after the Awards till 1am.
If you would like to support Hands Up for Trad in their work with Scottish trad music and musicians please consider supporting our Patreon campaign. We have 3 tiers starting at $1 a month and everything helps support us in our work. Read more at www.patreon.com/handsupfortrad