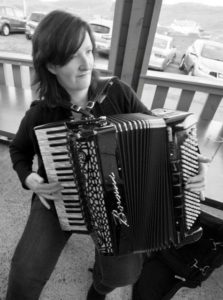 Congratulations to Sileas Sinclair who have been nominated in Composer of the Year sponsored by PRS for Music in the MG ALBA Scots Trad Music Awards 2018. Vote now!
We asked Sileas Sinclair of Sileas Sinclair the following questions.
Tell us about yourself
I am from Connel near Oban in Argyll and followed my dad's footsteps into the traditional dance music scene. Playing both accordion and piano and being brought up in West Coast cèilidh dance culture, I have also been very much influenced by the native Gaelic scene around me, learning Gaelic songs from my granny from an early age.
I conduct Oban Gaelic Choir, releasing our debut album Stòras, fusing the choral and folk worlds together to showcase Argyllshire bàrdachd, which was recorded live in concert in 2017 and performed again this year at the Blas Festival and again as part of the National Mòd fringe in Dunoon. Running the Oban High School Traditional School of Music, teaching music privately and for various fèisean and playing with my own cèilidh band 'Drams Allowed' with Deirdre Beck, Hugh MacCallum and Sarah Sinclair keeps me busy, not to mention having the privilege to play with other great artists such as Archie MacAllister, Angus MacColl, Lorne MacDougall, Finlay Wells and others.
All these influences have led me to become passionate about writing and arranging traditional music for all the groups I am involved in, also having the privilege of writing choral arrangements for An Comunn Gàidhealach and for choirs all over Scotland.
Why are you involved in Scottish music?
Having been brought up in a musical family, my dad playing the accordion and piano, my mum playing piano and teaching Highland dancing and my grandparents being in Oban Gaelic Choir, my granny a native Gaelic speaker, I have been surrounded by our music, language and culture my whole life and have always loved being involved.
Any particular career highlights?
Leading Oban Gaelic Choir to winning the Lovat and Tullibardine Shield in the National Mòd in 2015 in Oban was particularly special due to having long family connections with the choir, the Mòd being at home in Oban, and the choir singing my own arrangement of a local song, Òran do Bhonipart by James Shaw, Bàrd Loch nan Eala.
The positive reaction to our own choice piece at this year's National Mòd, Am Maraiche 's a Leannan, my choral interpretation of Niteworks' track Maraiche has been amazing and has encouraged me to keep pushing boundaries, experimenting with a fusion of new styles while respecting tradition.
What are your plans for the future?
Teaching and passing on our music and culture as were passed down to me is very important to me and something I will always continue to do. For the future I also hope to further develop writing and arranging opportunities in the choral world and beyond. Playing wise I have a couple of exciting new group projects in the works which I'm looking forward to working on and bringing to fruition in the coming year.
Read more about Sileas Sinclair
http://obangaelicchoir.co.uk
Facebook: http://www.facebook.com/sileas.sinclair
Twitter: http://www.twitter.com/obangaelicchoir
If you wish to attend the final ceremony, tickets are available to buy via: https://www.horsecross.co.uk/whats-on/the-mg-alba-scots-trad-music-awards-35002 For box office call 01738 621031 or email box@horsecross.co.uk. Bands performing on Saturday 1st December include includes Croft No Five, Mànran, Karine Polwart Trio, Hannah Rarity, Eabhal, Catriona Watt, Gordon Duncan Experience and Gerda Stevenson. and more to be announced. There will also be a late night ceilidh after the Awards till 1am.
If you would like to support Hands Up for Trad in their work with Scottish trad music and musicians please consider supporting our Patreon campaign. We have 3 tiers starting at $1 a month and everything helps support us in our work. Read more at www.patreon.com/handsupfortrad