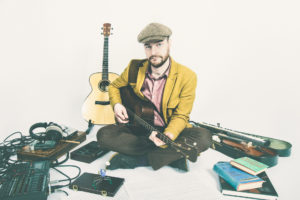 Congratulations to Mike Vass who have been nominated in Instrumentalist of the Year sponsored by Royal Scottish Country Dance Society in the MG ALBA Scots Trad Music Awards 2018. Vote now!
We asked Mike Vass of Mike Vass the following questions.
Tell us about yourself
My name is Mike Vass. I am a musician, composer & producer working primarily in the field of Traditional Scottish Music. My main work now is facilitating others in their vision of their recorded work. As producer and/or co-producer I find real joy in helping singers and musicians develop their creative ambitions for their albums. It is where I feel most at ease these days, but also where I'm able to give my all.
Why are you involved in Scottish music?
Why? I am a musician, and Scottish, and am now on a life-long journey to explore Scottish music in all its forms and intend on encouraging learning and development within the scene as far as I can. There is so much amazing music produced currently, its a thrill to be a part of it, and to encourage its progress. It's an obsession; and whether healthy or not… time will tell.
Any particular career highlights?
My project 'In the wake of Neil Gunn' is a very personal career highlight.
Tìr which I co-produced with Brian O'Headhra and Fiona Mackenzie I'm very proud of.
My other current highlights are future releases but a quick run down of forthcoming albums I've produced/co-produced:
Kim Richards
Fiona Hunter
Paul McKenna
Grainne Brady
Malinky
Save His Calm
The Four Pillars
What are your plans for the future?
Next year I release my first song record 'Save His Calm' which is a really important project for me. I spent some time courtesy of the NHS in 2013 and 2016 and these songs riff on my experiences there as well as my wider friends' and family's stories that have shaped my thinking these last few years. It has been two years in the works and a really cathartic process to make these songs.
I have some exciting studio projects lined up for the next year and I hope to make the most of my time working with some amazing musicians, singers and collaborators.
Thanks to Handsupfortrad's Distil project I met Errollyn Wallen – an incredible musician, singer and composer who is now a daily inspiration and a brilliant mentor to me. Errollyn is a guiding voice in my musical development and this year produced a record for me. I hope to continue my learning with Errollyn and to share what I learn from her with all my friends and colleagues.
If the opportunity arose, I'd like to spend a silly amount of time on making a record… say two years, to really delve deep and see what happened. But that is pie in the sky.
I feel so lucky to be involved, its a real delight every day, and I am going to be a life long learner in Trad Music and beyond.
Read more about Mike Vass
http://mikevass.com
Facebook: http://www.facebook.com/vassmusic
Twitter: http://www.twitter.com/saystheking
If you wish to attend the final ceremony, tickets are available to buy via: https://www.horsecross.co.uk/whats-on/the-mg-alba-scots-trad-music-awards-35002 For box office call 01738 621031 or email box@horsecross.co.uk. Bands performing on Saturday 1st December include includes Croft No Five, Mànran, Karine Polwart Trio, Hannah Rarity, Eabhal, Catriona Watt, Gordon Duncan Experience and Gerda Stevenson. and more to be announced. There will also be a late night ceilidh after the Awards till 1am.
If you would like to support Hands Up for Trad in their work with Scottish trad music and musicians please consider supporting our Patreon campaign. We have 3 tiers starting at $1 a month and everything helps support us in our work. Read more at www.patreon.com/handsupfortrad