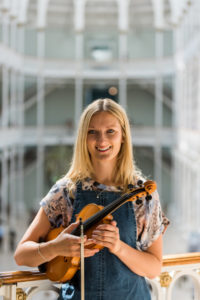 Congratulations to Mhairi Marwick who have been nominated in Music Tutor of the Year sponsored by Creative Scotland Youth Music Initiative in the MG ALBA Scots Trad Music Awards 2018. Vote now!
We asked Mhairi Marwick of Mhairi Marwick the following questions.
Tell us about yourself
Having grown up in Fochabers, I was brought up playing music from a young age. I was inspired by my fiddle teacher, James Alexander MBE, who was a great influence and inspiration to me. In 2013 I graduated from Strathclyde University, BA Applied Music with a First Class honours degree and since then became a finalist in the BBC Radio Scotland's Young Traditional Musician of the Year 2014 and this gave me a platform in the Scottish Music Scene.
Growing up in Fochabers, I came from a traditional fiddle background but over the years my style has adapted and changed to play in various genres. I have been fortunate enough to perform abroad with various bands in Europe, America and Asia. Over the years I have performed with artists including: Fat-Suit, Fatherson, Scott Wood Band, Norrie MacIver, Calum Stewart, Kilda, Robyn Stapleton, Hannah Rarity and Joy Dunlop.
I am very passionate about teaching and although I live In Glasgow, I decided to set up my own teaching school in Fochabers in 2016. I teach over thirty pupils and lead two groups, The Arc Fiddlers and Junior Arc Fiddlers which encompasses the young people I teach. This provides them with opportunities to perform and have fun together! Both groups recently supported Calum Stewart at Eden Court, Inverness. I am also involved in the annual Fochabers Fiddle Week with fellow north east fiddle player, Jack Semdley. We welcome over 50 children each year to receive tuition from Scotland's top fiddle players.
Why are you involved in Scottish music?
I love Scottish music and I'm so passionate about it. The scene is so vibrant and full of exciting opportunities that I have been fortunate enough to experience and be part of. One particular aspect that I really enjoy is sharing music with the younger generation and inspiring them for the future.
Any particular career highlights?
I've been so lucky with the opportunities I've been given so far and have had so many amazing experiences. I've loved touring and performing in all sorts of places including Buckingham Palace last year and just recently the Royal Albert Hall.
What are your plans for the future?
In the future I would love to continue in all the avenues that I am involved in: performing, teaching and inspiring young children, composing, recording and The Arc Sessions folk club. I love all these aspects of my life and hope to continue with them and see what opportunities may come up.
Read more about Mhairi Marwick

Facebook: http://www.facebook.com
Twitter: http://www.twitter.com/
If you wish to attend the final ceremony, tickets are available to buy via: https://www.horsecross.co.uk/whats-on/the-mg-alba-scots-trad-music-awards-35002 For box office call 01738 621031 or email box@horsecross.co.uk. Bands performing on Saturday 1st December include includes Croft No Five, Mànran, Karine Polwart Trio, Hannah Rarity, Eabhal, Catriona Watt, Gordon Duncan Experience and Gerda Stevenson. and more to be announced. There will also be a late night ceilidh after the Awards till 1am.
If you would like to support Hands Up for Trad in their work with Scottish trad music and musicians please consider supporting our Patreon campaign. We have 3 tiers starting at $1 a month and everything helps support us in our work. Read more at www.patreon.com/handsupfortrad