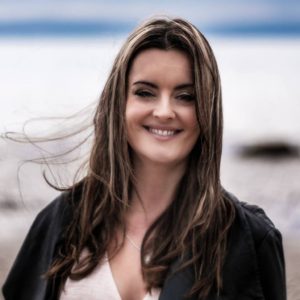 Congratulations to Maeve Mackinnon who have been nominated in Gaelic singer of the Year sponsored by Macmeanmna in the MG ALBA Scots Trad Music Awards 2018. Vote now!
We asked Maeve Mackinnon of Maeve Mackinnon the following questions.
Tell us about yourself
Maeve Mackinnon is a contemporary Gaelic singer from Glasgow. As well as touring with her solo band, she tours internationally in her own right as well as with The Stepcrew. She released her 2007 debut album Don't Sing Love Songs – culminating in her winning Up and Coming Artist of the Year at the Scots Trad Music Awards, and a prestigious Classic Album show at Celtic Connections 2008. She released the follow-up, Once Upon an Olive Branch in 2012, garnering four and five star reviews as well as further award nominations at the Scots Trad Music Awards 2008 and 2011 respectively. Following a short hiatus from solo work, her latest album Strì, was released this year to four and five star reviews, and prompted Songlines magazine to quote, "An album of stunning Gaelic songs delivered by an equally stunning Gaelic voice".
Why are you involved in Scottish music?
I sometimes ask myself the same question… In all seriousness, I have a great love and respect for Gaelic language and culture, and I'm constantly inspired by the Glasgow folk music scene.
Any particular career highlights?
Gaelic soloist at the Royal Edinburgh Tattoo in 2015, performing to 3000 people a night for 21 days, and being picked up for my first ever Stepcrew tour in Florida, by a black limousine. The limo didn't happen again! 🙂
What are your plans for the future?
More solo touring, Stepcrew gigs and a few other exciting projects in the mix!
Read more about Maeve Mackinnon
http://maevemackinnon.com/
Facebook: http://www.facebook.com/maeve.mackinnon
Twitter: http://www.twitter.com/maevemackinnon
If you wish to attend the final ceremony, tickets are available to buy via: https://www.horsecross.co.uk/whats-on/the-mg-alba-scots-trad-music-awards-35002 For box office call 01738 621031 or email box@horsecross.co.uk. Bands performing on Saturday 1st December include includes Croft No Five, Mànran, Karine Polwart Trio, Hannah Rarity, Eabhal, Catriona Watt, Gordon Duncan Experience and Gerda Stevenson. and more to be announced. There will also be a late night ceilidh after the Awards till 1am.
If you would like to support Hands Up for Trad in their work with Scottish trad music and musicians please consider supporting our Patreon campaign. We have 3 tiers starting at $1 a month and everything helps support us in our work. Read more at www.patreon.com/handsupfortrad