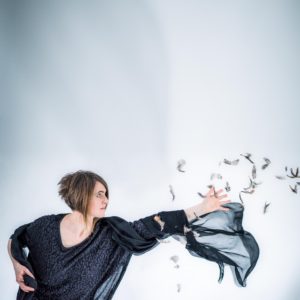 Congratulations to Karine Polwart who have been nominated in Live Act of the Year sponsored by Greentrax Recordings in the MG ALBA Scots Trad Music Awards 2018. Vote now!
We asked Karine Polwart of Karine Polwart the following questions.
Tell us about yourself
BBC Radio 2 Folk Singer Of The Year 2018, Karine Polwart is a multi-award-winning Scottish songwriter and musician, as well as a theatre maker, storyteller, spoken-word performer and published essayist. Her songs combine folk influences and myth with themes as diverse as Donald Trump's corporate megalomania, Charles Darwin's family life and the complexities of modern parenthood. She sings traditional songs too and writes to commission for theatre, animation and thematic collaborative projects. Karine is six-times winner at the BBC Radio 2 Folk Awards, including twice for Best Original Song.
In association with The Royal Lyceum Theatre and Edinburgh International Festival 2016, Karine wrote, musically directed, and performed Wind Resistance, her critically acclaimed debut work for theatre. A poetic meditation on midwifery, ecology, sanctuary, and solidarity, it combines elements of memoir, essay, myth, sound art and song, it won the BEST MUSIC & SOUND AWARD at the CATS (Critics Awards for Theatre in Scotland) 2017.
Why are you involved in Scottish music?
Scottish Music feels like home to me. It's where I've met most of my friends. It connects me to the place I live and to the lines of people who've gone before me. And it tells the most beautiful and enduring stories.
Any particular career highlights?
Performing my piece I Burn But I Am Not Consumed with the BBC SSO on the eve of the Trump inauguration felt like an important political statement as a musician as well as a kind of stepping up to a different tone. But the thing I'm most proud of is my theatre show Wind Resistance, which wove Scots song into its telling. The personal feedback from that has been tender and beautiful and inspiring. And it's transformed how I make work now and what I think I can do.
What are your plans for the future?
I'm fortunate to be working on several projects – a new theatre show infused with Scottish music; an orchestral work rooted in a Scottish folk legend; and an album of folksy interpretations of classic Scottish pop covers. Plus all kinds of interesting opportunities opening up in radio and the world of books. It's an exciting time.
Read more about Karine Polwart
http://www.karinepolwart.com
Facebook: http://www.facebook.com/karinepolwart
Twitter: http://www.twitter.com/IAMKP
If you wish to attend the final ceremony, tickets are available to buy via: https://www.horsecross.co.uk/whats-on/the-mg-alba-scots-trad-music-awards-35002 For box office call 01738 621031 or email box@horsecross.co.uk. Bands performing on Saturday 1st December include includes Croft No Five, Mànran, Karine Polwart Trio, Hannah Rarity, Eabhal, Catriona Watt, Gordon Duncan Experience and Gerda Stevenson. and more to be announced. There will also be a late night ceilidh after the Awards till 1am.
If you would like to support Hands Up for Trad in their work with Scottish trad music and musicians please consider supporting our Patreon campaign. We have 3 tiers starting at $1 a month and everything helps support us in our work. Read more at www.patreon.com/handsupfortrad