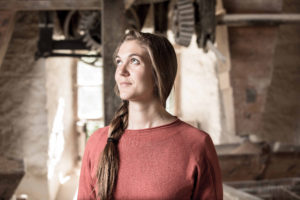 Congratulations to Jenny Sturgeon who have been nominated in Composer of the Year sponsored by PRS for Music in the MG ALBA Scots Trad Music Awards 2018. Vote now!
We asked Jenny Sturgeon of Jenny Sturgeon the following questions.
Tell us about yourself
I'm a singer-songwriter, composer and teacher from Aberdeenshire, now living in Shetland. I play in Salt House with Lauren MacColl and Ewan MacPherson and I also tour with my own trio alongside Jonny Hardie and Charlie McKerron. In 2017 I devised and wrote Northern Flyway with Inge Thomson – a Creative Scotland and PRS Foundation funded audio-visual project inspired by bird ecology, mythology and birdsong which has toured extensively this year. I'm a big fan of wild places and love islands and watching wildlife.
Why are you involved in Scottish music?
Until a few years ago I worked as a seabird ecologist and played music in my spare time. I used to sing unaccompanied traditional songs at ceilidhs (for a free ticket!) and it was at one of these ceilidhs in 2012, that I met Jonny Hardie and Davy Cattanach – they encouraged me to do more singing and songwriting and since then I've built up to what I do today. In 2016 I decided to write and perform music full-time and it is the best decision I could have made. The Scottish music scene is so vibrant and varied and a total joy to work in!
Any particular career highlights?
Music has enabled me to visit some amazing places – including spending time on St Kilda researching and writing an EP of music inspired by the islands, and visiting the Falkland Islands for 4 weeks this year to teach songwriting. The most significant highlights of my career have been seeing Northern Flyway develop from an initial idea to a touring audio-visual performance, and working with an extremely talented and lovely bunch of people.
What are your plans for the future?
I'm currently writing music for a song-cycle inspired by Nan Shepherd's 'The Living Mountain'. I'm excited to record this album and to see how the project develops in the future. I'm also looking forward to recording and touring a new solo album and Salt House album next year, and to planning further touring with Northern Flyway. Other than that I'm aiming to do more sea swimming and tea drinking!
Read more about Jenny Sturgeon
http://www.jennysturgeonmusic.com
Facebook: http://www.facebook.com/jennysturgeonmusic
Twitter: http://www.twitter.com/jenny_sturgeon
If you wish to attend the final ceremony, tickets are available to buy via: https://www.horsecross.co.uk/whats-on/the-mg-alba-scots-trad-music-awards-35002 For box office call 01738 621031 or email box@horsecross.co.uk. Bands performing on Saturday 1st December include includes Croft No Five, Mànran, Karine Polwart Trio, Hannah Rarity, Eabhal, Catriona Watt, Gordon Duncan Experience and Gerda Stevenson. and more to be announced. There will also be a late night ceilidh after the Awards till 1am.
If you would like to support Hands Up for Trad in their work with Scottish trad music and musicians please consider supporting our Patreon campaign. We have 3 tiers starting at $1 a month and everything helps support us in our work. Read more at www.patreon.com/handsupfortrad