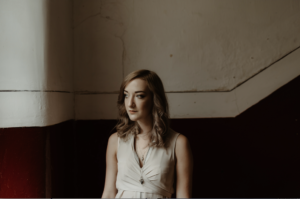 Congratulations to Iona Fyfe who have been nominated in Citty Finlayson Scots Singer of the Year sponsored by TMSA in the MG ALBA Scots Trad Music Awards 2018. Vote now!
We asked Iona Fyfe of Iona Fyfe the following questions.
Tell us about yourself
I am a folksinger from Huntly, in Aberdeenshire but now live in Glasgow, where I'm in my final year of study at the Royal Conservatoire of Scotland. I grew up within the competitive ballad competition circuit and I'm very passionate about promoting the songs and doric dialect of Aberdeenshire. I tour with my trio and band which consists of Luc McNally, Charlie Grey and Ross Miller.
Why are you involved in Scottish music?
To be honest… it's all I've ever known! My first time performing was at Keith TMSA festival in 2003, entering the Doric poetry! Since then, I've been nurtured by the most supportive and lovely singers, storytellers and musicians. I fell in love with the big ballads at a very early age and continue to attend ballad competitions across Scotland. In my teens I gradually went to more and more folk clubs in Aberdeenshire and beyond. I auditioned for a place studying Traditional Music at the Royal Conservatoire of Scotland when I was 16, and luckily got in – so that was that!
Any particular career highlights?
2018 has been my busiest year yet. Whilst being in my final year of studies at The Royal Conservatoire of Scotland, I've been touring, recording and collaborating with lots of musicians, whilst working with the TMSA as one of their National Directors.
A highlight this year was taking my band over to Festival Interceltique de Lorient, as well as performing at venues and festivals in Canada, Germany, Austria, Italy and Switzerland!
This year I launched my debut album, Away From My Window, at the Strathclyde Suite at Celtic Connections, complete with 7-piece band. It was a lovely evening, and what made it more special is that we sampled voice recordings of Stanley Robertson and Lizzie Higgins.
In 2014, I met Sheila Stewart and performed alongside her at a sold-out Barrowland ballroom. Since then I've had the honour of performing alongside her sons Hamish and Ian MacGregor. Being in the final of the BBC Radio Scotland Young Traditional Musician of the Year competition was a real highlight!
What are your plans for the future?
In December I'm doing that thing that no singer wants to do – getting my tonsils out! So, I'm laying low for January, but on 1st January I'm releasing a new EP featuring Aidan Moodie (Siobhan Miller, Gnoss), Rory Matheson (TRIP), and Graham Rorie (Gnoss). The EP, titled Dark Turn of Mind, moves away from the style and repertoire of my debut album, Away From My Window, but moves toward something more accessible to non-Doric or Scots speakers. It's very daunting but exciting releasing something entire in English, with no Doric, but that doesn't mean to say that I've lost integrity or appreciation for the tradition that I grew up around. Dark Turn of Mind still draws on the repertoire of tradition bearers and songwriters, but this time, showcases the universalism of ballads when applied to the American and Appalachian song traditions. For me, it's just something different and fresh. The EP also features songs from American singer-songwriters Gillian Welch and Gregory Alan Isakov. I plan on graduating from the Royal Conservatoire of Scotland in July 2019 and focus on performing, recording and researching.
Pre-order Dark Turn of Mind at www.ionafyfe.com/shop or www.ionafyfe.bandcamp.com
Read more about Iona Fyfe
http://www.ionafyfe.com/shop
Facebook: http://www.facebook.com/ionafyfesinger
Twitter: http://www.twitter.com/ionafyfe
If you wish to attend the final ceremony, tickets are available to buy via: https://www.horsecross.co.uk/whats-on/the-mg-alba-scots-trad-music-awards-35002 For box office call 01738 621031 or email box@horsecross.co.uk. Bands performing on Saturday 1st December include includes Croft No Five, Mànran, Karine Polwart Trio, Hannah Rarity, Eabhal, Catriona Watt, Gordon Duncan Experience and Gerda Stevenson. and more to be announced. There will also be a late night ceilidh after the Awards till 1am.
If you would like to support Hands Up for Trad in their work with Scottish trad music and musicians please consider supporting our Patreon campaign. We have 3 tiers starting at $1 a month and everything helps support us in our work. Read more at www.patreon.com/handsupfortrad