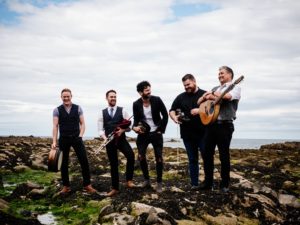 Congratulations to Ímar who have been nominated in Folk band of the Year sponsored by Threads of Sound in the MG ALBA Scots Trad Music Awards 2018. Vote now!
We asked Mohsen Amini of Ímar the following questions.
Tell us about yourself
Glasgow-based five-piece Ímar feature Adam Brown (bodhrán), Adam Rhodes (bouzouki), Mohsen Amini (concertina), Ryan Murphy (uilleann pipes) and Tomás Callister (fiddle) share a strong background in Irish music – although only Murphy actually hails from Ireland; Rhodes and Callister are from the Isle of Man, whilst Amini is a Glasgow native, and Brown originally from Suffolk – and it is these foundations which underpin many of Ímar's distinctive qualities, in both instrumentation and material.
The band's unmistakable synergy centres on the overlapping cultural heritage between Scotland, Ireland and the Isle of Man. All three places once shared the same Gaelic language and a similar kinship endures between their musical traditions.
With the launch of their second studio album 'Avalanche' the band have a busy year ahead of them!
Why are you involved in Scottish music?
Because the scene is absolutely incredible! We have all been playing for years and, all from different place with slightly different backgrounds but eventually all ended up living in Glasgow! As Tom says, Glasgow is the Nashville of trad music! It's a very happening scene and incredibly exciting and that's what keeps us involved in Scottish music! I just can't fault it.
Any particular career highlights?
A massive highlight for us as a band was picking up the Horizon award at the BBC Radio 2 Folk Awards. Aside from that we have been pretty lucky online and managed to have a few videos go viral which is never a bad thing! Gig-wise probably two highlights would have to be Celtic Colours and Tønder Festival!
What are your plans for the future?
Well we have just released our second album so plans are just to continue the way we are and keep making the music we are making! Next year so far we will be touring the UK, Ireland, Denmark & USA so we will no doubt catch you all on the road at some point!
Read more about Ímar
http://wwwimarband.com
Facebook: http://www.facebook.com/imarband
Twitter: http://www.twitter.com/imarband
If you wish to attend the final ceremony, tickets are available to buy via: https://www.horsecross.co.uk/whats-on/the-mg-alba-scots-trad-music-awards-35002 For box office call 01738 621031 or email box@horsecross.co.uk. Bands performing on Saturday 1st December include includes Croft No Five, Mànran, Karine Polwart Trio, Hannah Rarity, Eabhal, Catriona Watt, Gordon Duncan Experience and Gerda Stevenson. and more to be announced. There will also be a late night ceilidh after the Awards till 1am.
If you would like to support Hands Up for Trad in their work with Scottish trad music and musicians please consider supporting our Patreon campaign. We have 3 tiers starting at $1 a month and everything helps support us in our work. Read more at www.patreon.com/handsupfortrad