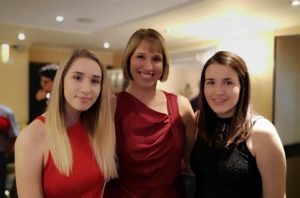 Congratulations to Heather Anderson who have been nominated in Music Tutor of the Year sponsored by Creative Scotland Youth Music Initiative in the MG ALBA Scots Trad Music Awards 2018. Vote now!
We asked Heather Anderson of Heather Anderson the following questions.
Tell us about yourself
My name is Heather Anderson and I live in Tarland, a small village in Aberdeenshire. I come from a fiddling family, both of my brothers play as do my two daughters. I play the fiddle with the Banchory Strathspey and Reel Society as well as the Mayfield Group and Deeside Loons and Quines. I have been teaching fiddle now for over 10 years, and I love teaching Scottish traditional music. I like to encourage my pupils to compete at the Traditional fiddle competitions and festivals around Scotland and also to attend our local Fiddle & Accordion club (and further afield) and sessions.
All my pupils love playing Scottish music, in fact prefer it to classical, and they all have fun playing it.
Why are you involved in Scottish music?
I have always played traditional Scottish music and can't imagine my life without it!
I think it is very important for the young people today to learn traditional Scottish music and keep our heritage alive. I have made so many great friends through Scottish music and had so many brilliant opportunities and I think it is important for my pupils to have the same chances and experiences I have been lucky enough to have.
Any particular career highlights?
Playing all over the country and abroad, in lots of fantastic venues, and getting to play alongside some brilliant musicians.
Always love to see my pupils doing well but I think the best thing is seeing how they improve over time and gain more and more confidence. One pupil in particular wouldn't even play in front of her parents but I managed to get her to play on stage with me. She was so happy as were her parents as she never thought she would be able to get through it, but she did!
What are your plans for the future?
Hopefully to carry on teaching and playing and seeing my pupils and Scottish music go from strength to strength.
Read more about Heather Anderson

Facebook: https://www.facebook.com/heather.anderson.3979
Twitter: http://www.twitter.com/
If you wish to attend the final ceremony, tickets are available to buy via: https://www.horsecross.co.uk/whats-on/the-mg-alba-scots-trad-music-awards-35002 For box office call 01738 621031 or email box@horsecross.co.uk. Bands performing on Saturday 1st December include includes Croft No Five, Mànran, Karine Polwart Trio, Hannah Rarity, Eabhal, Catriona Watt, Gordon Duncan Experience and Gerda Stevenson. and more to be announced. There will also be a late night ceilidh after the Awards till 1am.
If you would like to support Hands Up for Trad in their work with Scottish trad music and musicians please consider supporting our Patreon campaign. We have 3 tiers starting at $1 a month and everything helps support us in our work. Read more at www.patreon.com/handsupfortrad