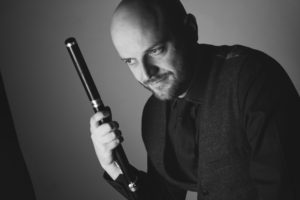 Congratulations to hamishnapier@mac.com who have been nominated in Album of the Year sponsored by Birnam CD in the MG ALBA Scots Trad Music Awards 2018. Vote now!
We asked HAMISH NAPIER the following questions.
Tell us about yourself
"Napier is one of the finest musicians in Scotland…his music is invigorating, passionate and steeped in tradition." TMSA
I'm a pianist, flautist, singer and composer from Strathspey. As producer and co-arranger I've been fortune to be able to help shape several albums over the past few years, coproducing Gaelic singer Mairi MacInnes' acclaimed 2014 album Gras, and co-writing tunes with Duncan Chisholm for his new Sandwood album. I worked as a co- arranger for Ross Ainslie's Sanctuary, Jarlath Henderson's Hearts Broken, Heads Turned, Adam Sutherland's Some Other Land and Gary Innes' ERA. I've recorded on over forty folk music albums to date, with leading Scottish musicians such as Donald Shaw, Mike Vass, Karen Matheson, Martyn Bennett, Treacherous Orchestra and Eddi Reader.
It's an honour to have my second solo album 'The Railway' nominated in the shortlist for 'Album of the Year'. My first album 'The River' was also shortlisted two years ago. I recently returned to live in my native Strathspey, to write music and live the Highland life. For 16 years I was steeped in Glasgow's vibrant folk music scene, playing with Back of the Moon, Man's Ruin, Cask Strength Ceilidh Band, and more. I also taught composition and music theory at Glasgow's Royal Conservatoire of Scotland (RCS).
I work as an accompanist and co-arranger with a number of leading Scottish folk musicians, including Duncan Chisholm, Ross Ainslie, Jarlath Henderson, Gary Innes and Adam Sutherland.
"Excellent flautist/whistle player…" The Guardian
Why are you involved in Scottish music?
I was lucky to introduced to many forms of music music as a child, and Scottish music was by far the one the moved me the most. I once heard Kathleen MacInnes sing 'Mi Le m`Uilinn' unaccompanied in a Glasgow pub, and it moved me to tears. That shocked me, how much the music took hold of me.
I love our native music for it's nuance, evolution, variability, style, intimate musical connections, history, improvisation, strong sense of place, the buzz of big crescendos, technical harmonic ideas, glorious melodies, landscapes, unique voices and communication (rapid, brave and unspoken between humans). I feel proud of Scotland vast and diverse musical heritage.
I was fortunate to be brought up among the Fèis movement (Fèis Spè). Soon after I began my work as a junior music tutor for several community music groups and projects in Glasgow while I was a student. Going to sessions and learning from my peers (and family!) in my first band Back of the Moon was an amazing training. I'm so lucky that bandmemebrs Gillian Frame, Ali Hutton, Simon McKerrell and my brother Findlay were happy to teach me so much about music, and also give me so many amazing opportunities.
Any particular career highlights?
Performing 'The River' at Celtic Connections 2016 (one of their New Voices commissions) to a very warm and excited full crowd. I had a mega cast of some of my very favourite musicians. I was proud to talk about my local area, and I really felt like I had finally managed to find my very own style and approach after all these years of performing.
Recently I've been performing with Duncan Chisholm's 'Gathering', playing music from his acclaimed 'Sandwood' album (inspired by a remote beach near Cape Wrath). I am thrilled that the slow air Duncan closes the album with is one of my own. I also co-wrote and arranged six other tunes with Duncan for the project. 'Sandwood' is definitely the most beautiful album I've ever been involved with, with landscape and a strong sense of place at the heart of the music. Duncan is a masterful fiddler and landscape composer. He seems to possess a kind of musical sixth-sense, and has been a huge inspiration to me for as long as I can remember. The live gigs have been mesmerising: Orkney Festival, Celtic Connections, and more.
What are your plans for the future?
In a nutshell my plans are to continue writing, composing, tutoring, recording, performing and settling in to the Highlands.
Most of all, I love to play. I love working with Duncan Chisholm, Jarlath Henderson, Gary Innes, Ross Ainslie and others. I will be taking my music 'The River' and 'The Railway' to venues and audiences around Scotland and the UK, working with young people for my 'From the Source' show, and helping them to discover a pride in their own local music, heritage and community.
I've also been writing a music theory book for Scottish music, a large body of handouts, exercises and diagrams that I've been continually developing throughout the course of my work at RCS, at fèisean, 1-to-1 music lessons and when visiting other universities as a guest tutor. I am pulling this together into a large web resource.
…and I have started writing my next album 'The Woods' already – inspired by the stunning Ancient Caledonian Pine Forests of Strathspey.
Read more about hamishnapier@mac.com
http://www.hamishnapier.com
Facebook: https://www.facebook.com/hamishnapiermusic/
Twitter: https://twitter.com/hamishnapier
If you wish to attend the final ceremony, tickets are available to buy via: https://www.horsecross.co.uk/whats-on/the-mg-alba-scots-trad-music-awards-35002 For box office call 01738 621031 or email box@horsecross.co.uk. Bands performing on Saturday 1st December include includes Croft No Five, Mànran, Karine Polwart Trio, Hannah Rarity, Eabhal, Catriona Watt, Gordon Duncan Experience and Gerda Stevenson. and more to be announced. There will also be a late night ceilidh after the Awards till 1am.
If you would like to support Hands Up for Trad in their work with Scottish trad music and musicians please consider supporting our Patreon campaign. We have 3 tiers starting at $1 a month and everything helps support us in our work. Read more at www.patreon.com/handsupfortrad