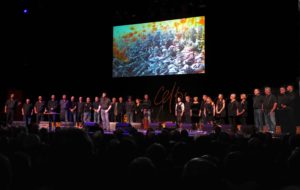 Congratulations to Far, Far From Ypres. who have been nominated in Event of the Year sponsored by VisitScotland in the MG ALBA Scots Trad Music Awards 2018. Vote now!
We asked Ian McCalman of Far, Far From Ypres. the following questions.
Tell us about yourself
Far Far From Ypres is a "not for profit" critically acclaimed production featuring top acoustic/folk acts and narrated by Iain Anderson. Created and directed by Ian McCalman, it is the story of a Scot's journey to the Western Front in WW1, musically illustrated by 27 musicians on stage throughout the concert. Cast: Barbara Dickson, Siobhan Miller, Mairi MacIness, Sangsters, Dick Gaughan, Gary West, Ian Bruce, Stephen Quigg, Ian McCalman Mairearad Green, Stevie Palmer etc. Currently on a concert tour for "WW100 Scotland, centenary commemorations". Standing ovations every evening, finishing at the Usher Hall, Edinburgh, November 11th (Armistice Day)
Why are you involved in Scottish music?
Life long interest in music, world tours with "The McCalmans" since 1964, "Hamish Henderson award", 6 TV series, been there, done that, still doing it.
Ian McCalman
Any particular career highlights?
Can only list personal highlights re Ian McCalman: "Far Far From Ypres" particularly the Highland tour and taking the production to France. Also the 10 gig WW100 Scotland tour. Re McCalmans: Most of the major European festivals, Concerts in Kenya, Falkland Islands, Faroe Islands, Alice Springs Folk Cub, South New Zealand, Hong Kong, Bermuda, Belize, St Louis, Toronto, East Germany (pre unification), Cleethorpes Folk Club, network Radio Two series, TV series BBC and ITV, Roman amphitheatres etc.
What are your plans for the future?
Retire, but tried that before. Doesn't seem to work.
Read more about Far, Far From Ypres.
http://bit.ly/FarFarFromYpres
Facebook: http://www.facebook.com/
Twitter: http://www.twitter.com/
If you wish to attend the final ceremony, tickets are available to buy via: https://www.horsecross.co.uk/whats-on/the-mg-alba-scots-trad-music-awards-35002 For box office call 01738 621031 or email box@horsecross.co.uk. Bands performing on Saturday 1st December include includes Croft No Five, Mànran, Karine Polwart Trio, Hannah Rarity, Eabhal, Catriona Watt, Gordon Duncan Experience and Gerda Stevenson. and more to be announced. There will also be a late night ceilidh after the Awards till 1am.
If you would like to support Hands Up for Trad in their work with Scottish trad music and musicians please consider supporting our Patreon campaign. We have 3 tiers starting at $1 a month and everything helps support us in our work. Read more at www.patreon.com/handsupfortrad