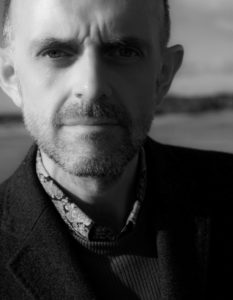 Congratulations to Duncan Chisholm who have been nominated in Album of the Year sponsored by Birnam CD in the MG ALBA Scots Trad Music Awards 2018. Vote now!
We asked Duncan Chisholm of Duncan Chisholm the following questions.
Tell us about yourself
I have played traditional Scottish fiddle music since the age of 8 and have been an integral part of the Scottish traditional music scene for almost 30 years, 28 of these as a professional musician. My music is deeply rooted in the Highland tradition however the correlation between music and the natural world lies at the heart of what I do. Since the release of my seminal album 'Redpoint', the natural elements that make the Highlands of Scotland such a unique canvas have been the force and motivation behind my music. My use of melody comes from the tradition within the Highlands of telling stories and painting visual pictures through music.
In 2012 I completed my 'Strathglass Trilogy' a hugely acclaimed three-album project, inspired by the lands where my clan roots run some 700 years deep. The trilogy was a defining statement of my musical and personal identity.
The development of my career has been crafted with a determined focus to create music that is conceptually accurate in composition, production and performance. I 'sculpt' music from places and write, produce and perform 21st Century Traditional music.
Deeply moved and motivated by the experience of trekking wild in North West Sutherland, my latest album 'Sandwood' (2018) is inspired by the light, colour and atmosphere of the changing seasons at Sandwood Bay and chronicles my solivagant journey through Sutherland to this bay on the edge of the Atlantic. Two years of imagining, writing and production brought forth my understanding of the sound of this magnificent land. This album contains musical portraits of a world untouched by human hand.
Why are you involved in Scottish music?
I have been a traditional musician since the age of 8 and have a deep love of Scottish traditional music.
Any particular career highlights?
Notable achievements to date:
Commissioned by 14/18Now to co-produce 'An Treas Suaile', a commemorative production to mark the 100 year anniversary of the sinking of HMY Iolaire. This will be presented in Stornoway in November 2018.
April 2018 saw the release of Sandwood , the sixth studio album by Duncan Chisholm
Sold out concert at New Auditorium, Glasgow Royal Concert Hall as a part of Celtic Connections Festival in January 2018
Performed at The Edmonton Folk Festival in Alberta, Canada – August 2017
Sold out concert at Glasgow City Halls as a part of Celtic Connections Festival 2017
Commissioned to work alongside World renowned composer Craig Armstrong on World exclusive production 'Ballantyne' supported by An Lanntair, Isle of Lewis as part of 'Bealach' – August 2016.
Live performance of my music at The Cambridge Folk festival, Belladrum Tartan Heart Festival and Festival Interceltique de Lorient, France during 2016.
The model of my award winning multi-media production Kin, has been adopted by Feis Rois and the Highland Youth Arts hub. I have been appointed Musical Director of this ongoing project
Live at Celtic Connections album awarded 'Album of the Year' at the Scots Trad Music Awards 2014
Performed live with Nicola Benedetti and Julie Fowlis at the Opening Ceremony of the Commonwealth Games in Glasgow during 2014
Performed on Nicola Benedetti's latest release, 'Homecoming, A Scottish Fantasy' released 7 July 2014.
Nominated as the 'Ambassador of the Hebridean Celtic Festival 2014'.
Opening the 2014 Celtic Connections Festival with my four piece line-up at the Glasgow Royal Concert Hall, January 2014.
Recording with Grammy Nominated singer songwriter Beth Nielsen Chapman on her latest release 'Uncovered' – released January 2014.
The Strathglass Suite – a selection of music taken from my Strathglass Trilogy and adapted for a string and brass ensemble. An exclusive performance for the Celtic Connections Festival 2013 received a 5* Review in The Scotsman
Affric – included within long list of 20 albums nominated for the Scottish Album of the Year Award 2013.
Nominated within 'Musician of the Year' and 'Best Traditional Track' categories of the BBC Radio 2 Folk Awards 2013.
Affric included within Songlines magazine –'10 Best Albums of 2012' and within their 'Top of the World' selection for Jan 2013.
Awarded 'Instrumentalist of the Year' at the Scots Trad Music Awards 2012.
Commissioned by the BBC to write music for BBC2 documentary Castle Commando. First broadcast April 2012. Narrated by Rory Bremner.
Farrar – awarded 'Album of the Year' at the Scots Traditional Music Awards 2008.
Awarded the first commission for original music from The Blas Festival in 2007. I wrote, produced and directed a multi-media production entitled Kin which subsequently was awarded a 'Herald Angel' for excellence.
Integral part of the Julie Fowlis band from 2007 to present day, performing extensively throughout the U.K., Europe and US.
Soloist at the world premiere of Phil Cunningham's Ceilidh, Glasgow Royal Concert Hall, January 2001 alongside world renowned percussionist Evelyn Glennie.
Founder member of folk-rock band Wolfstone, selling in excess of 250,000 albums since 1990, and touring extensively throughout the U.K., Europe and the U.S.
Co-wrote the song Heart and Soul, recorded on the soundtrack to the Oscar winning film 'Good Will Hunting' 1997.
What are your plans for the future?
To continue to write and perform music that resonates deeply with people
Read more about Duncan Chisholm
http://www.duncanchisholm.com
Facebook: http://www.facebook.com/DuncanChisholmFiddle
Twitter: http://www.twitter.com/DuncanWChisholm
If you wish to attend the final ceremony, tickets are available to buy via: https://www.horsecross.co.uk/whats-on/the-mg-alba-scots-trad-music-awards-35002 For box office call 01738 621031 or email box@horsecross.co.uk. Bands performing on Saturday 1st December include includes Croft No Five, Mànran, Karine Polwart Trio, Hannah Rarity, Eabhal, Catriona Watt, Gordon Duncan Experience and Gerda Stevenson. and more to be announced. There will also be a late night ceilidh after the Awards till 1am.
If you would like to support Hands Up for Trad in their work with Scottish trad music and musicians please consider supporting our Patreon campaign. We have 3 tiers starting at $1 a month and everything helps support us in our work. Read more at www.patreon.com/handsupfortrad