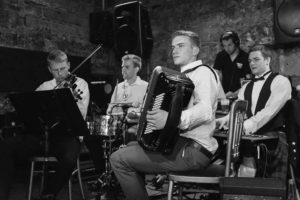 Congratulations to David Kennedy Scottish Dance Band who have been nominated in Dance band of the Year sponsored by National Association of Accordion and Fiddle Clubs in the MG ALBA Scots Trad Music Awards 2018. Vote now!
We asked David Kennedy of David Kennedy Scottish Dance Band the following questions.
Tell us about yourself
The Band comprises of Steven Todd (Piano), Tom Gold (Fiddle), Andrew Gibb (Drums) Scott Nichol (2nd Box) and Brian Cruickshank (Bass). Having all been taught in some capacity by Keith Dickson we originally formed the Band whilst involved in the accordion group KODA. Getting together originally to compete in NAAFC events we progressed into playing for ceilidhs, weddings and other Giggs. We have since gone on to make our debut on BBC's Take the Floor back in 2013 and have been broadcasting regularly since then.
Why are you involved in Scottish music?
When you start out you don't think to much into why your playing the music, for me it was very much a case of simply being encouraged to learn an instrument or a new skill. As you develop though and start playing in different groups what you realise is the amount of opportunities that come up through playing Scottish music are incredible. Its a great way of breaking down barriers and meeting people you would otherwise never know. We play a lot with some dancers that tour across the world and we find that Scottish culture in general is so well received and its playing our small role in that, that makes it all worthwhile!
Any particular career highlights?
The highlight that sticks out for me was playing for the Celtic Connections broadcast back in 2017. The work involved in arranging a program for that and then playing for the live audience was really rewarding. We also play for a group of Scottish Country Dancers down in Thornhill. We've been lucky enough to travel and perform with them all over the world in places such as China, Bosnia, France and more recently a trip to Austria.
What are your plans for the future?
I suppose the next step for us would be to get in to the studio and bring an album together. In the mean time we really only play for the enjoyment of it so we'll continue just having a good time gigging and broadcasting.
Read more about David Kennedy Scottish Dance Band
http://www.davidkennedyband.com
Facebook: http://www.facebook.com/
Twitter: http://www.twitter.com/
If you wish to attend the final ceremony, tickets are available to buy via: https://www.horsecross.co.uk/whats-on/the-mg-alba-scots-trad-music-awards-35002 For box office call 01738 621031 or email box@horsecross.co.uk. Bands performing on Saturday 1st December include includes Croft No Five, Mànran, Karine Polwart Trio, Hannah Rarity, Eabhal, Catriona Watt, Gordon Duncan Experience and Gerda Stevenson. and more to be announced. There will also be a late night ceilidh after the Awards till 1am.
If you would like to support Hands Up for Trad in their work with Scottish trad music and musicians please consider supporting our Patreon campaign. We have 3 tiers starting at $1 a month and everything helps support us in our work. Read more at www.patreon.com/handsupfortrad