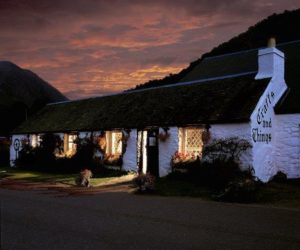 Congratulations to Coffee Shop, Crafts & Things, Glencoe who have been nominated in Venue of the Year sponsored by Musicians' Union in the MG ALBA Scots Trad Music Awards 2018. Vote now!
We asked David Cooper of Coffee Shop, Crafts & Things, Glencoe the following questions.
Tell us about yourself
For thirty years I have been promoting live traditional music here in the Coffee Shop, which is part of Crafts & Things, in Glencoe. The Craft Shop was rebuilt from a ruined byre by my parents in 1968. I bought it in 1982, and immediately started having afternoon live music sessions weather permitting in the garden. I built the coffee shop in 1990, and almost immediately started using the space for occasional live music sessions. Mairi Campbell with her husband Dave Francis, performing as The Cast were one of the first to play here, and Mairi is still a regular. So, for thirty years musicians have been encouraged to play here. In more recent times these events have become a regular feature with an average of two concerts a month from September through to the end of May. Hundreds of wonderfully talented musicians have played here over the years. Some at the top of their game, famous figures with long and well established musical careers, but, perhaps more importantly, many just starting out.
The venue seats seventy, and although I employ staff to help on counter and door duties on the nights, its very much a personal operation. I promote the events, clear out the tables, lay out the seating, feed and accommodate the musicians, and put the whole place back together again on my own after the gigs. It's not a profit making exercise. The musicians play for the door money. All of it. The bar takings will sometimes cover the running costs, sometimes not.
The musicians love playing here, and many come back and back. It's an intimate atmosphere with an appreciative well musically educated audience.audience.
Why are you involved in Scottish music?
I love traditional music and where I live, in a rural west coast location which stepped in traditional music there are very few, and it seems decreasing number, of outlets where the public can have access to quality traditional music in what is more a concert rather than a pub situation. I also was very keen to use the space I have as a venue for new, up and coming talent, of which there is plenty in Scotland, and as they are new on the scene can find it hard to source places to perform.
It's been going successfully for thirty years, providing quality live music in a rural area with a small population. And It brings people into the area. There are many recipients of these emails who come to the concerts from other parts of the country, staying in local hotels or b&b's, eating in restaurants, thus contributing to the local economy. And it is all done for the love of live, traditional music.
So, its good for me because I get to know and befriend musicians, and have them play at my business.
Its good for musicians as they get to play in an intimate environment, close to their audience, are fed and watered, and accommodated, and get all the door money.
Its good for the local music loving population, as they get to hear great music without having to go far.
And its good for the community as it brings people into the area.
Any particular career highlights?
For me, the highlights of the music nights held here are getting to connect with people who make their living from making great music.
Here is a list of just some of the atrtists who have played once, or are regular performers in the Coffee Shop:
Fred Morrison, Iain Macfarlane and family, Andy Irvine, Mary Ann Kennedy, Lily Neil, Clive Carroll, Daimh, Kaela Rowan , James Mackintosh, Tim Edey, Mike Vass, Eilidh Shaw, Tannara, HoRo, Gnoss, Fras, Mairi Campbell, Cera Impala, Ross Martin, Eabhal, Ivan Drever, Iona Fyfe with Luc McNally and Charlie Grey, Kate Young with Patsy Reid and Su-a Lee, John Doyle, John Goldie, Jarlath Henderson, Marc Clements, Eilidh Steel and Mark Neil, plus a few others like Kosmos, Claude Bourbon, Kieran Goss, and Corinne West, whose music would not fall into the Scottish Traditional grouping.
Duncan Chisholm has played here several times over the years, but more recently has been harder to book as he is just so busy!
Artists who have played here back a bit in time include Brian McNeil, The Wrigley sisters, Ashley McIsaac, Cara Dillon, and the sadly now deceased Michael Mara.
And going back into the mists of time and my memory banks, Sprangeen, the all woman's group played long ago. And many others have joined in with visiting musicians, the list goes on, and my memory does not serve me well…..
I am currently trying to find suitable dates for Snuffbox, Grainne Brady, Tony McManus, and some relative newcomers Sally Simpson and Catriona Hawksworth. As well as respond positively to all those who want to come back, and back again…
What are your plans for the future?
Crafts and Things,as a business has its 50th anniversary in 2019. I am 68 years old, and sometime in the next 5 years will retire. I plan to stay in the area, and I would hope that the next custodian of this business will continue with these event, and I would dearly love to continue promoting them.
But in the meantime it would be lovely to have some recognition for all they work I have put I have put into promoting live music here, and it would be a great way to kick start our 50h anniversary celebrations!
Read more about Coffee Shop, Crafts & Things, Glencoe
http://craftsandthings.co.uk
Facebook: https://www.facebook.com/Crafts-Things-Coffee-Shop-78999051745/?eid=ARCbe0K3k-oum8X7Rj3px31XL8cNnoXMnc6Z1vnhiTmrns7rYrlvoB60dykzIkPqBWCf81FHXQOT_NFQ
If you wish to attend the final ceremony, tickets are available to buy via: https://www.horsecross.co.uk/whats-on/the-mg-alba-scots-trad-music-awards-35002 For box office call 01738 621031 or email box@horsecross.co.uk. Bands performing on Saturday 1st December include includes Croft No Five, Mànran, Karine Polwart Trio, Hannah Rarity, Eabhal, Catriona Watt, Gordon Duncan Experience and Gerda Stevenson. and more to be announced. There will also be a late night ceilidh after the Awards till 1am.
If you would like to support Hands Up for Trad in their work with Scottish trad music and musicians please consider supporting our Patreon campaign. We have 3 tiers starting at $1 a month and everything helps support us in our work. Read more at www.patreon.com/handsupfortrad